Donate now to support the LLIFLE projects.
Your support is critical to our success.
Since 4 Aug 2013
Senecio longiflorus
Flora Flora 28: 499 (1845); Oliver & Hiern, in Oliver, Fl. Trop. Afr. iii.421
Family: ASTERACEAE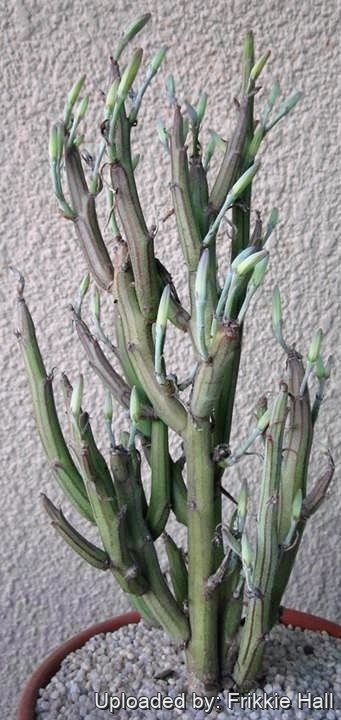 Senecio longiflorus Photo by: Frikkie Hall
This Sambokbossie (Kleinia longiflora) has about 30 flower buds.
Origin and Habitat: South West Africa/Namibia, Botswana, the northern, north-eastern, western and central tropical Africa, Madagascar (ssp madagascariensis) and Socotra (ssp. scottii). In South Africa it can be found in the Eastern Cape, Free State, Gauteng, Limpopo, Mpumalanga, Northern Cape, North West, and Western Cape. It is locally very common.
Habitat and ecology: As one would expect from the succulent nature of the shrubs, they grow in fairly dry areas among rocks or under bushes and on rocky ridges
Synonyms:
See all synonyms of Senecio longiflorus
Common Names include:
ENGLISH:
Sjambok bush, Paintbrush flower
AFRIKAANS (Afrikaans):
Sambokbossie, Sjambokbossie, Sjambokbos, Sambokbos, Gelukbos
HERERO (otjiHerero):
orukwasena
OWAMBO (Oshiwambo / Oshivambo):
elangelamwali, oshinanganamwali, okatendadikwa
SHONA (ChiShona):
Afushavhavhakadzi
Description: Senecio longiflorus is a perennial much-branched shrub in the Asteraceae family (Daisy). Its very succulent blue-green stems, grow in an erect upright manner to heights of 30-70 cm, but they may as much as 1.8 metres, making it appear somewhat like a Euphorbia, although the absence of milky sap distinguishes it readily from that genus. It is usually leafless or nearly during most of the year. It was first described as a Kleinia but was transferred to Senecio, a vast cosmopolitan genus of probably over 2,000 species which are extremely varied in habit. Senecio longiflorus is a typical example of a species that would be included in Kleinia if it were recognized as a distinct genus. It has an inflorescence in the form of a pale yellow or cream capitulum (apparently a single flower, actually several ...). When in seed, the shrubs are a striking sight with their tufts of long white hairs. It is a very variable plant with at least three subspecies recognised, the nominate form, Senecio longiflorus ssp. scottii and Senecio longiflorus subs. madagascariensis.
Distinctive features: It is highly succulent; there are no ray-florets; the disc-florets are pale yellow or cream and the style branches have an acuminate apex. Flowering heads are borne in large numbers on leafless branches in late winter and spring, while the bright green narrowly lanceolate leaves appear in late summer.
Derivation of specific name: The Latin epithet 'longiflorus,-a,-um'; 'long flowered' refers to the long, narrow, subcylindrical capitula (flowers) on stout peduncles.
Stem and branches: Much-branched, erect or creeping, 6-8 mm in diametee, round at first, but later becoming somewhat prismatically angled or even furrowed (when dry), and decorated with groups of three dark green or purple lines, glabrous, rigid, highly succulent.
Leaves: Absent, rudimentary or small (perhaps longer on young shoots) but short-lived, alternate, usually entire, bright green, succulent, narrowly lanceolate, scale-like, distant, subulate, 6-8 mm long.
Flowers (capitula): Usually homogamous, discoid, 1-many in an inflorescence, 25-38 mm long. Peduncles 3–5 at the ends of the branches and short lateral shoots, 6-8 mm long (much shorter than the involucres), bearing 2–4 scattered, subulate bracts. Involucres subcylindrical with 5–6, linear involucral bracts tapering upwards, margined, rigid, striate, 12-20 mm long (half as long as the corollas). Ray-florets absent. Disc-florets 5–10 per capitulum, all tubular, , 5-toothed hermaphrodite, creamy-yellow, about double the length of the involucre (protruding far beyond the bracts). Style branches with an acuminate apex.
Blooming season:Late winter and spring (August-October).
Fruits (achenes): Costate, elongate, subcylindrical, without a beak, multistriate, whit stiff hairs between the ribs ranging up to 8 mm long. Pappus of bristles in several series twice as long (longer than the corolla), pale-creamy, silky, copious.
Subspecies, varieties, forms and cultivars of plants belonging to the Senecio longiflorus group
Bibliography: Major references and further lectures
1) Oliver and W. P. Hiern. "Flora of Tropical Africa", Vol 1, 1877
2) W. H. Harvey "Flora Capensis", Vol 3, 1894
3) Richard F. Logan "The Central Namib Desert, South West Africa" National Academies, 1960
4) Inez C. Verdoorn, L. E. W. Codd "Wild Flowers of the Transvaal" Trustees, Wild Flowers of The Transvaal Book Fund, 1962
5) Foden, W. & Potter, L. 2005. Kleinia longiflora DC. National Assessment: Red List of South African Plants version 2015.1. Accessed on 2016/05/01
6) Gerrit Germishuizen "Transvaal Wild Flowers" Macmillan South Africa (Publishers), 1982
7) Bothalia 3: 258 (1937).
8) Contr.t. 3900, Hooker's Icon. Pl. 39: (1983).
9) "Ethnobotany of the Kwanyama Ovambos" : 63 (1985).
10) Énum. Pl. Fleurs Afr. Trop. 4: 303 (1997).
11) List South. African Succ. Pl. : 39 (1997).
12) Senecio longiflorus ssp. longiflorus retrieved 01 May 2016 from <https://enjoysucculents.wordpress.com/2014/09/26/senecio-longiflorus-ssp-longiflorus/>
13) Chapter 4: "Plants used by the Vha Venda". University of Pretoria, Library Services, 2012 retrieved 01 May 2016 from <http://repository.up.ac.za/bitstream/handle/2263/28881/02chapter4.pdf?sequence=3>
14) Hyde, M.A., Wursten, B.T., Ballings, P. & Coates Palgrave, M. (2016). "Flora of Zimbabwe: Genus page: Kleinia."
http://www.zimbabweflora.co.zw/speciesdata/genus.php?genus_id=1554, retrieved 1 May 2016
15) Farm Kyffhäuser, Maltahöhe District, Namibia "Kleinia longiflora DC." retrieved 01 May 2016 from <http://www.kyffhauser.co.za/Plants1/Kleinia_longiflora/Image5.htm>
Cultivation and Propagation: Senecio longiflorus is a winter-grower succulent that makes great potted specimens.
Soil: They grow well in a rich, well drained soil such us pumice, lava grit, and only a little peat or leaf-mould.
Growth rate: Slow to moderate growth rate.
Repotting: If potted, repot them preferably in the spring, if their roots become cramped. Generally, they should be repotted every other year in order to provide fresh soil. However, this doesn't necessarily mean they'll need larger containers. Fill about a quarter of the pot with broken crocks, gravel, etc. to promote good drainage. After repotting, do not water for a week or more. Use pot with good drainage. Eventually, as the plant becomes mature grow it slowly, and adopt a new repotting period, using intervals of every 2 - 3 years. Additionally grow it under drier conditions or with stronger sunlight.
Watering: Water sparingly from March until October so long as the plant pot is allowed to drain and not sit in a tray of water (It rots easily, especially if over wet), and also needs to be avoided wetting the body of this plant while it is in sunlight. Let dry between watering. From July watering should be reduced to force the plant to go into a state of semi dormancy, by September onward the plant will begin to grow and watering should be increased gradually until late November when the plant should be in full growth.
Fertilization: Low food needs. Feeding may not be necessary at all if the compost is fresh then, feed in early autumn only if the plant hasn't been repotted recently. Do not feed the plants from September onward as this can cause lush growth which can be fatal during the darker cold months.
Hardiness: When dormant, the plant is slightly cold tolerant (down to nearly -5° C or less), but when left out it is more sensitive to frost. However warmth throughout the year will increase the grower's success (at minimum temperatures from 5 to 15 centigrade degrees during winter). During the summer it is best to keep the plants outside where the temperature can rise to over 30 C with no harm to the plant.
Exposure: They do need a lot of light to develop their typical compact shape, but different clones vary in their tolerance of full sunshine. However some protection in light shade is recommended during the hottest hours in summer. They can tolerate moderate shade, and a plant that has been growing in shade should be slowly hardened off before placing it in full sun as the plant will be severely scorched if moved too suddenly from shade into sun. If kept too dark they may become overly lush and greener and could be prone to rotting due to over watering.
Traditional uses: Green and fresh branches are chewed and the juice swallowed as an emetic, especially when poison has been taken accidentally. Chewing the soft branch is also understood to induce love in women whom a man may meet. The name Afushavhavhakazi refers to this magical effect (from: -shavha = to buy + -vhakazi = Shona for women). Stems are also used as an ingredient of snuff.
Diseases and pests: Watch for infestations of mealybugs, scale insects and spider mite. Rot is only a minor problem with cacti if the plants are watered and "aired" correctly. If they are not, fungicides won't help all that much.
Propagation: It is easy from seed in spring but less so from cuttings. Cuttings grow easily once left to callous for several days and then planted in succulent soil. Seeds germinate in 14-21 days at 21°C.