Donate now to support the LLIFLE projects.
Your support is critical to our success.
Since 4 Aug 2013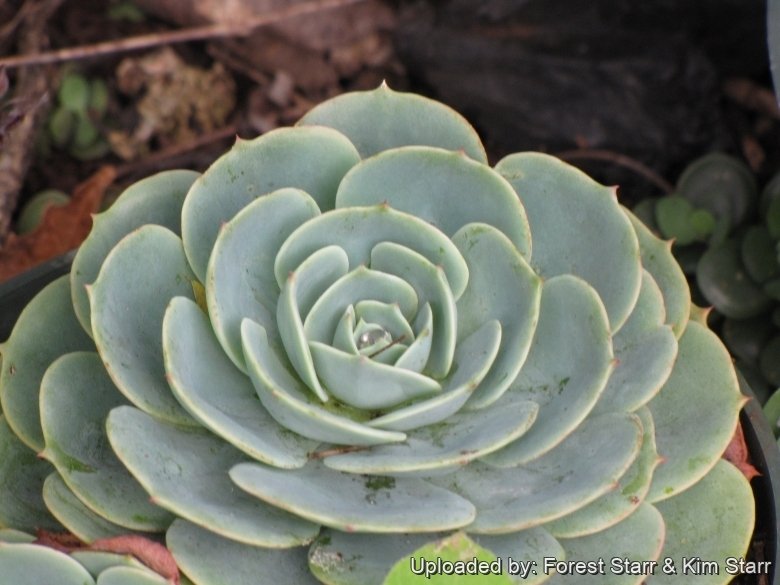 Habit at Ulana St Makawao, Maui, Hawaii (USA). February 18, 2011.
Origin and Habitat: Garden origin (Hybrid)
Synonyms:
Common Names include:
ENGLISH:
Blue Rose Echeveria, Hens and chicks
Description: Echeveria imbricata (Hens and Chicks) is a low growing plant forming rosettes to 15-20 cm wide with grey-green to blue-green leaves and deep pink, yellow-tipped flowers. The symmetry of Echeveria imbricata is exquisite. Azure rosettes produce pups that hug the mother, forming overlapping circles. It is a very popular and robust plant, easy to grow, and a very stable old hybrid. This hybrid cultivar was created in the early 1870's by Jean-Baptiste A. Deleuil of Marseilles (Rue Paradis) that resulted from crossing Echeveria secunda (Echeveria glauca) with Echeveria gibbiflora var. metallica and was listed for the first time in his 1874 catalogue and the name was published this same year in the Belgique Horticole. It was described in an article by Harry Butterfield titled "Echeverias for the Fancier" in the March/April 1954 journal of the Cactus and Succulent Society of America as the commonest "hen-and-chicken" in gardens. Likely this is still true and speaks to its durability and attractiveness. This hybrid has been used extensively ever since as a parent to other Echeveria hybrids in turn.
Rosettes: Tight, very concentric "saucer-like" of overlapping flat shield shaped leaves. The ultimate size of each rosette is about 14(-20) cm across and when mature offsets freely to form large bowl shaped clumps 10-15 cm tall and up to 50 or more cm across with many rosettes clustered together pushing each other upwards. Leaf margins are nearly white, giving the rosette a crisp and almost metallic quality. The most lovely feature of this growth habit is the way the older leaves dry up and form a papery basket around each of the rosettes. The outer leaves of each individual plant will shrivel and turn a soft tan colour, with the powder blue inner leaves covered in a fine powder, the pruine which protects the leaves from excess sunlight, and moisture loss.
Leaves: Numerous, pearly aqua-blue or blue-green edged in pink with a fine waxy bloom which easily rubs off on being touched, oval shaped, spathulate to wedge-shaped, blunt, concave, keeled and spreading, sessile thick and fleshy crowded and loosely arranged round the stem as a common axis and end at the point in a small mucro (bristle). The outer edges and mucro on older leaves have hint of pink or red which is evident, primarily in winter. With the exception of a few in the centre which are much smaller than the others the whole are similar in size and form up to 7.5 cm in length and 3 cm in breadth at the widest part near the apex from which they gradually taper towards the base.
Inflorescence: Flower stem round, branched, arching, rosy or pinky-blue bearing clusters of red and yellow flowers.
Blooming season: It flowers profusely in late spring to high summer (December to January in the southern hemisphere) and in some years single flowers can appear even in late autumn.
Bibliography: Major references and further lectures
1) Debra Lee Baldwin "Succulents Simplified: Growing, Designing, and Crafting with 100 Easy-Care Varieties" Timber Press, 21/May/2013
2) Forest & Kim Starr "Echeveria x imbricata (Hens and chicks)". Plants of Hawaii. <http://www.starrenvironmental.com>. Web. 27 Sep. 2014.
3) San Marcos Growers contributors "Echeveria 'Imbricata' - Hens and Chicks " San Marcos Growers <http://www.smgrowers.com>. Web. 27 Sep. 2014.
4) Drought Smart Plants contributors "Echeveria imbricata' <http://www.drought-smart-plants.com/echeveria-imbricata.html> Web. 27 Sep. 2014.
5) Gordon D. Rowley "The illustrated encyclopedia of succulents" Crown Publishers, 01/Aug/1978
6) Eggli, Urs "Illustrated Handbook of Succulent Plants, Crassulaceae Illustrated Handbook of Succulent Plants." Springer, Berlin 2002
7) Stuart Max Walters "The European Garden Flora: Dicotyledons" (Part I) Cambridge University Press, 1989
8) Hermann Jacobsen "A handbook of succulent plants: descriptions, synonyms, and cultural details for succulents other than Cactaceae" Volume 1 Blandford Press, 1960
9) Werner Rauh "The Wonderful World of Succulents: Cultivation and Description of Selected Succulent Plants Other Than Cacti" Smithsonian Institution Press, 1984
10) Eric Walther "Echeveria" California Academy of Sciences, 1972
11) Botanical Magazine, 8748 1918
12) John Pilbeam "The Genus Echeveria" British Cactus & Succulent Society, 2008
13) L. Carruthers and R. Ginns "Echeverias: A Guide to Cultivation and Identification of the Popular American Succulents" Arco Publishing Company, Inc.; First Edition edition 1973
14) William Robinson "The English Flower Garden: Style, Position, and Arrangement" Cambridge University Press, 24/Nov/2011
15) Lorraine Schulz and Attila Kapitany "Echeveria Cultivars" Schulz Publishing, 2005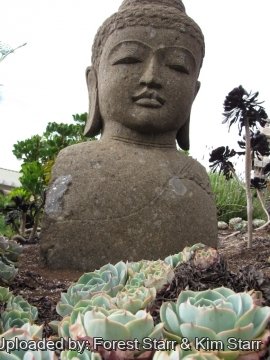 Habit with statue at Alii Kula Lavender Farm Waipoli Rd, Maui, Hawaii (USA). June 16, 2010.
Photo by: Forest Starr & Kim Starr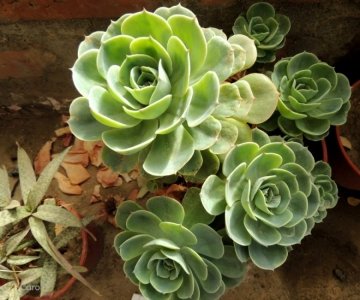 Echeveria х imbricata
Photo by: Carolina González
Cultivation and Propagation: Echeveria x imbricata is certainly one of the most versatile, highly durable and attractive, rosette forming succulents. There's a reason this echeveria has been in cultivation longer than most: it's tough enough to grow in garden beds and handles full sun in all but desert climates. Excellent as patio plant, or in the rock garden as a colour accent or to provide structural composition. This tightly-clustered plant freely produces offsets and in the right situation, it can form a large planting, and makes a great accent plant for any collection or planting. Wonderful in rock garden walls or containers. It is easy to care for and is a good starting point for beginning gardeners. This plant can be propagated annually until you have a well stocked outdoor succulent garden.
Growth rate: This Echeveria variety is a slow grower, that grows in spring and autumn and will form beautiful clumps with time.
Soil: In habitat, many Echeverias grow on rocky outcroppings at higher altitudes. In this habitat, the water drains quickly away from the roots of the plant, never allowing the plant to remain waterlogged. For this reason, it is essential in cultivation to use a very porous soil, which will allow quick drainage. It seems to like a mulch of lava rock or other small stones around the base.
Exposition: Plant in full sun, even in hotter inland gardens, to part sun/light shade. Bright light is required to prevent "stretching" of Echeverias ("stretching" occurs when a plant such as an Echeveria, is grown in dim light or over-fertilized, which causes overly lush growth that contributes to weak, pallid plants). Bright light enhances red edges.
Watering: Water thoroughly when soil is dry to the touch. Water sparingly in winter. A well-drained soil allows this plant to thrive getting winter rain.
Hardiness: It is one of the hardiest of the Echeveria, tolerating short durations of temperatures down to – 4° or -8° C during short cold spell. On colder temperate regions it is grown under glass with heat.
Uses: It is cultivated as an ornamental plant for rock gardens planting, or as a potted plant. The low-growing clusters are very suitable to fill rock crevices. It is sometime used to cover the roof tiles of a house‐top. A layer of rosettes stapled to the roof overhang is used to hold an inch of peaty soil to the roof. It also used to form silvery blue small borders and are believed to keep away evil spirits. Mature clusters of rosette cascading from containers provide sculptural.
Pest: Mealybugs.
Propagation: Propagation is best by leaf cuttings or offsets, as it is fairly slow growing. Each rosette multiply by offsets within a year spreading into a rounded mound to 30 cm tall and 75 cm across, transforming into a highly useful groundcover.