Donate now to support the LLIFLE projects.
Your support is critical to our success.
Since 4 Aug 2013
Tylecodon bodleyae Photo by: Diego Armentano
Origin and Habitat: Oograbies montains near Port Nolloth (S.W. Richtersveld), Northern Cape, Republic of South Africa. Tylecodon bodleyaeSN|32581]]SN|32581]] is a localized habitat specialist (extent of occurrence less than10 km²), known from one location where it is declining due to over collecting for the succulent trade.
Habitat and Ecology: Succulent Karoo. Tylecodon bodleyaeSN|32581]]SN|32581]] grows in quartzitic sandstone crevices, in the upper steep, south-facing slopes, together with another Augrabies endemic, Conophytum bolusiae, often in deep shade. Tylecodon bodleyaeSN|32581]]SN|32581]] is found only on cliffs (obligate cremnophyte). The scarce rainfalls are concentrated in winter (25-50 mm/annum), but the plants obtain additional water from condensation of coastal fog. This species is not disturbed by larger herbivores that cannot cause disturbances on cliffs, but is declining due to over collecting of mature individuals from the wild for the succulent trade.
Synonyms:
Description: Tylecodon bodleyae is a dwarf erect sparingly branched succulent to 10 cm tall from a grotesquely swollen caudex, with few finger-like shoots covered in leaf-scars. The flowers are pretty, whitish, and "fluffy" (with hairs on the petals) a rather unique feature in the genus. This species may not be sufficiently distinct from Tylecodon similis.
Derivation of specific name. The species name honours the South African botanical illustrator Mrs. Elise Bodley van Wyk (1922–1997) who painted all known Tylecodon species.
Tuberous base (caudex): Up to 6 cm in diameter with yellow-brown peeling bark.
Stems: Ascending, grey-green, with dark longitudinal striations, articulated at the nodes, younger branches 4-5 mm in diameter. Falling leaves reveal short, truncate phyllopodia (protuberances left by fallen leaves).
Leaves: Deciduous, succulent, arranged in a spiral manner at branches tips, produced during the winter. As this is the growing season, though in cultivation the leaves may persist for longer if the plants are watered. Lamina obovate to elliptic, 8-15 long, 6-14 mm wide, green to pale green, sparingly glandular-hairy or glabrous, base cuneate, apex acute.
Inflorescences (thyrses): Up to 4 cm long, with 1-2 monochasia, each with 1-2 erect flowers. They are produced after the leaves have dried and fallen, during the dry summer months.
Flowers: Pedicels 6-16 mm, glandular-pubescent. Bracts linear, acute, 1-1.5 mm long. Sepals triangular-lanceolate 3 mm long, 1 mm wide. Corolla 11-15 mm long, tube funnel-shaped, yellowish-green, 3 mm in diameter at the base expanding to 4 mm at the throat, glandular-hairy. Corolla lobes oblong, 5 long, 2.5 mm wide, spreading, becoming recoiled, with long white hairs on the inner surface. Nectar glands yellowish-green, oblong, erect, emarginate, 1 x 0.5 mm.
Seeds: Very small, light-weight and wind-dispersed.
Bibliography: Major references and further lectures
1) E. van Jaarsveld: Tylecodon. In: Urs Eggli "Illustrated Handbook of Succulent Plants: Crassulaceae: Crassulaceae" volume 4. Springer Science & Business Media, 2003
2) Urs Eggli, Leonard E. Newton "Etymological Dictionary of Succulent Plant Names" Springer Science & Business Media, 29 June 2013
3) Raimondo, D., von Staden, L., Foden, W., Victor, J.E., Helme, N.A., Turner, R.C., Kamundi, D.A. and Manyama, P.A. "Red List of South African Plants." Strelitzia 25. South African National Biodiversity Institute, Pretoria.2009.
4) Snijman, D.A. "Plants of the Greater Cape Floristic Region 2: The extra Cape flora." Strelitzia 30. South African National Biodiversity Institute, Pretoria.2013.
5) Van Jaarsveld, E. "Tylecodon boddleyi (Crassulaceae), a new species from the northwestern Cape." Cactus and Succulent Journal (USA) 64(4):57-61.1992.
6) Van Jaarsveld, E.J. and Koutnik, D. "Cotyledon and Tylecodon." Umdaus Press, Pretoria. 2004.
7) von Staden, L. & Van Wyk, P.C.V. 2015. "Tylecodon bodleyae Van Jaarsv." "National Assessment: Red List of South African Plants" version 2015.1. Accessed on 2016/02/27
8) Jean-Michel Moullec "Tylecodon bodleyae" International Crassulaceae Network. Retrieved on 27 February 2016 from <http://crassulaceae.net/tylecodon/84-photos/443-tylecodon-bodleyae>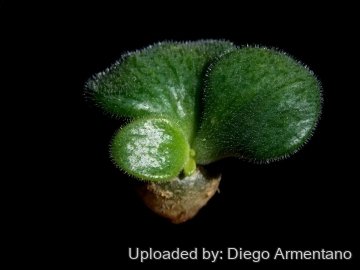 Tylecodon bodleyae
Photo by: Diego Armentano
Send a photo of this plant.
The gallery now contains thousands of pictures, however it is possible to do even more. We are, of course, seeking photos of species not yet shown in the gallery but not only that, we are also looking for better pictures than those already present.
Read More...
Cultivation and Propagation: Although usually grown only by specialist caudiform grower it presents no great difficulty in cultivation. It is a winter grower, dormant in the summer.
Growing rate: This is a very slow growing species.
Soil: Tylecodon bodleyaeSN|32581]]SN|32581]], like all other caudiciforms, requires very well-drained soils. Out-of-Doors prefers sandy soil, sandy loam soil provided the drainage is good. In pot it needs an open medium comprising equal parts of well decomposed compost or finely milled bark, and river or silica sand (or pumice) or a well drained, cactus compost.
Repotting: Re pot every 2/3 years using the above compost with added slow release fertilizer, but fully grown plants can remain in the same position for many years. Plant it with the neck at soil level and grow it in pots with a diameter of at least 25 cm. Give it excellent drainage.
Fertilization: Because they are adapted to poor soil, feeding is not really necessary, but some ash will not do them any harm. On pots fertilize moderately during the growing season with diluted high potassium fertilizer.
Exposure: It is most suitably grown in full exposed areas but it will even grow and bloom in half-sun.
Watering: As it is a deciduous winter-growing plant, it likes moisture from late summer to early spring, and withhold water from late spring to summer (dormancy period). In the growing season water when the roots are almost dry, and reduce watering in winter to once every two weeks.
Hardiness: Winter minimum temperature is 5ºC but better at 8ºC. The leaves easily drop off in cool conditions.
Garden uses: The plants are mostly grown by specialist caudiciform collectors, usually as container subjects.
Pest and diseases: It is susceptible to attack by mealy bugs.
Propagation: From seed. Seeds form readily and should be harvested and sown as soon as they can be easily removed from the capsules. The seeds germinate without difficulty. Seeds may take up to two months before the first leaf appears above ground, and a further 10 to 20 years to reach maturity. If it is the intention to plant these seedlings out into a bag or pot, they can be transplanted in their second or third year. Once planted in a permanent position do not dug-up and moved them constantly from one location to the next. A word of caution - do not plant the swollen stems too deep. Ensure the slender neck of the plant is just protruding above the soil with only the root underground. It can also be propagated from cuttings in late Autumn.