Donate now to support the LLIFLE projects.
Your support is critical to our success.
Since 4 Aug 2013
Monanthes pallens Photo by: Raimondo Paladini
Origin and Habitat: Canary Islands, Western Tenerife (Masca and the Teno mountains, Santiago del Teide, Tamaimo etc..), Gomera (Vallehermoso).
Altitude range: 50-1100 metres above sea level.
Habitat and ecology: Monanthes pallens, forms small rosettes that grows in arid barranco's in crevices mostly in vertical position, often with Cheilanthes pulchella. It is nearly impossible to spot them in dry period.
Synonyms:
See all synonyms of Monanthes pallens
Accepted name in llifle Database:
Monanthes pallens
(Webb in Christ) Christ
Bot. Jahrb. Syst. 9: 162 1888.
Synonymy: 7
Description: Monanthes pallens is a perennial, solitary or partly offsetting species that forms tiny house-leek-like rosettes about two centimetres across. M. pallens is very variable.
Derivation of specific name: pallens Lat., pale, pale greenish; for the leaf colour.
Stems: Simple, erect and fleshy, very short, in older plants slightly elongate or cylindrical, stout and more or less caudiciform, 3-7 mm in diameter bare, bearing at its apex a dense leaf rosette.
Roots: Fibrous.
Rosettes: Very dense, convex or flat and in cultivations and in shade sometimes slightly concave, 7-15 mm tall, 10-40(-55) mm in diameter, generally with more than 100 eaves.
Leaves: 5-18 mm long, 1-3 mm wide, 1-2 mm thick, rhomboidal-spathulate to narrowly obovate and thick above, acute or subtruncate, very attenuate into a long narrow base, glabrous or occasionally with some short glandular hairs (less than 0.1 mm long), apically densely papillose.
Inflorescences: Flowering shoots lateral, from the axils of outer older leaves, about 3/5cm long, simple and usually leafy in lower part, much branched above, with few small bracts. Pedicels 3-10 mm long, glandular-hairy (hairs less than 1 mm long).
Flowers: Buds globular. Flowers 5- to 7 parted, 3-4 mm in diameter slightly bad smelling. Petals yellowish, 2.8-3.6 mm long, 0.5-0.8 mm wide, linear-oblanceolate, stiff. Nectar scales 1.1 to 1.6 mm long, 1.4 to 1.9 mm wide.
Blooming season: Flowering in spring (from end of March until end of June).
Chromosome number: n = 18.
Bibliography: Major references and further lectures
1) Reto Nyffeler: Monanthes pallens. in: Urs Eggli "Illustrated Handbook of Succulent Plants: Crassulaceae: Crassulaceae" Springer Science & Business Media, 2003
2) Urs Eggli, Leonard E. Newton "Etymological Dictionary of Succulent Plant Names" Springer Science & Business Media, 11 March 2004
3) Peter Schönfelder "Die Kosmos Kanarenflora (The Kosmos Canary Island Flora)" Kosmos Verlags-GmbH, 1997
4) The bulletin of the British pteridological society Vol. 6 2002 No. 1 http://www.ebps.org.uk/wp-content/uploads/2014/05/Bulletin2002NM.pdf
5) Monanthes pallens in: International Crassulaceae Network http://www.crassulaceae.ch/de/artikel?akID=76&aaID=2&aiID=P&aID=3106
6) Albert Leroy "Crassulaceae - Genus Monanthes - Monanthes pallens" web: http://excotic-flora-and-canarian-flora.blogspot.it/2013/10/crassulaceae-genus-monanthes-monanthes.html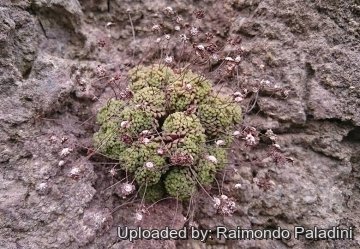 Monanthes pallens
Photo by: Raimondo Paladini
Send a photo of this plant.
The gallery now contains thousands of pictures, however it is possible to do even more. We are, of course, seeking photos of species not yet shown in the gallery but not only that, we are also looking for better pictures than those already present.
Read More...
Cultivation and Propagation: Monanthes pallens is seldom seen in cultivation, but it takes very little place in the collection and is asking very little attention. For the amateur with lack of space in his greenhouse it are the ideal species to collect. The only demand is a very poor substrate, little water and a mid-shade place. The only things that can kill this plant are cold, hot blasting sun and overwatering. The flowers are jewel-like but not often seen, especially when the plant is grown in shade where it seems to do best. Nevertheless, it is appropriate to provide adequate growing conditions in order to obtain compact plant with many flowers.
Growth rate: Slow growing to start but does well under cultivation.
Exposure Suited for bright situations in mid-shade or under filtered sun. They are often grown under the bench in the shade house along with shade-tolerant haworthias, but if kept too dark they may become overly lush and greener and could be prone to rotting due to over watering. Strong but filtered light encourages flowering, but they likely to suffer from sun scorch and often die if over exposed to direct sunlight during the hottest part of the day in summer. Avoid mid day sun in summer!
Soils: Use a an open and free draining mineral compost with little organic matter (peat, humus) that allows therefore roots to breath (as it is rot prone). Outdoors a well-draining rocky or sandy soil is ideal.
Repotting: Repot it every 2 or 3 years in order to evaluate the health of the plant and provide a larger growing space being careful not to damage the sensitive roots.
Watering: It likes a winter's rest and should be kept dry during the winter months. From early spring onwards the plant will begin to grow and watering should be increased gradually until late spring when the plant should be in full growth. Water regularly during the aestival growth cycle so long as the plant pot is allowed to drain and not sit in a tray of water (this plant need plenty of water) But needs to be avoided wetting the bodies of these plants while they are in sunlight. A wet plant in the sun light can cause sun burning which can lead to scares or even fungal infections and death. From late summer watering should be reduced to force the plant to go in to a state of semi dormancy, by autumn you should be back in to the winter watering regime. Keep dry with ample airflow in winter (but for outdoors cultivation it is somewhat resistant to wet conditions, too if grown in very draining substrata). In the rest period no high atmospheric humidity!! Care must be taken with watering as they tends to become swollen and untidy in growth habit if given too much water and shade.
Fertilization: Feed with a high potassium fertilizer in summer during the growing season diluted to one-fourth potency and mix into the watering can for application.
Hardiness: Monanthes are not frost-resistant. Keep dry at 5- 10° C in winter, but can tolerate sporadic light frost if kept on the dry side prior to, and during, cold weather. Pots may be placed outdoors during the summer months, but must be moved indoors during the winter. USDA zones 9-11
Uses: It is an excellent plant for container growing. It always looks good and stays small. It look fine in a cold greenhouse and frame. It do well outdoors in rock gardens and terraces as well. The slowly creeping stems cluster freely to form mats as a small area ground cover. Monanthes also makes an excellent potted windowsill plant.
Pests & diseases: It may be attractive to a variety of insects, but plants in good condition should be nearly pest-free, particularly if they are grown in a mineral potting-mix, with good exposure and ventilation. Nonetheless, watch carefully for any significant decline in health. This may signal a pest problem that should be dealt with quickly in order to prevent scarring, stunting and even death.
- Red spiders: Red spiders may be effectively rubbed up by watering or misting the plants from above.
- Mealy bugs: Mealy bugs occasionally develop aerial into the new growth among the leaves with disfiguring results, but the worst types develop underground on the roots and are invisible except by their effects. Eliminate mealybug infestations by dabbing the critters with cotton swabs dipped in alcohol or by soaking the succulent roots in a systemic insecticide.
- Scales: Scales are rarely a problem.
- Rot: This species is relatively easy and accommodating, seldom suffer of cryptogamic diseases, but is occasionally infected by Helminthosporium, Pythium and Fusarium if kept too moist. Rot it is only a minor problem with Monanthes if the plants are watered and "aired" correctly. If they are not, fungicides won't help all that much.
Propagation: The branching nature of this plant makes it easy to take an abundance of cuttings which root readily. It is also easy to propagate through seed. Seed germinate in 14-21 days at 21°C. Sow in a well drained medium.