Donate now to support the LLIFLE projects.
Your support is critical to our success.
Since 4 Aug 2013
sponsored link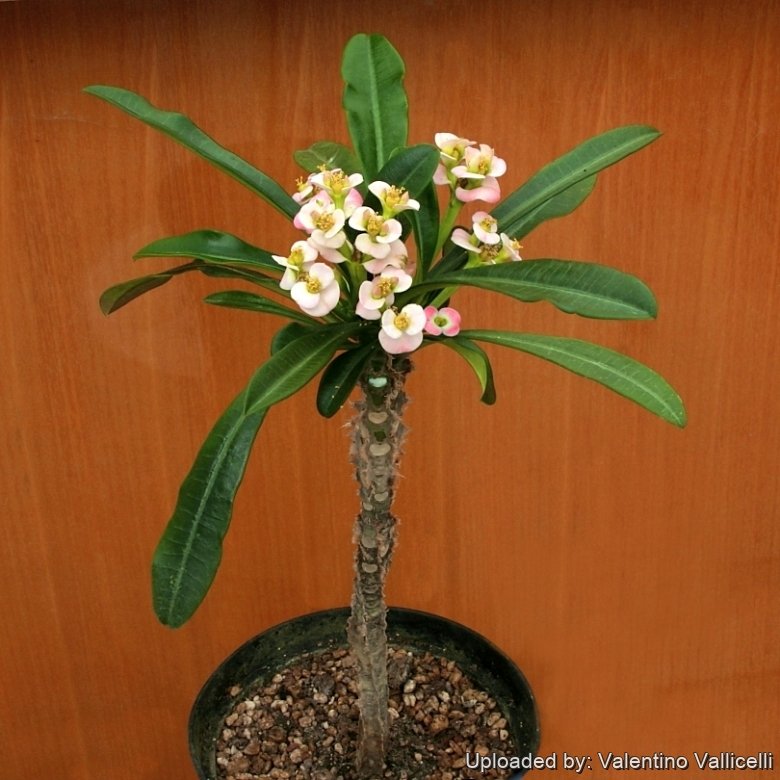 Euphorbia lophogona Photo by: Valentino Vallicelli
Origin and Habitat: Endemic to east coast of Madagascar, from Fort-Dauphin (where it is locally common) to Sainte-Marie island (Provinces: Fianarantsoa, Toamasina, Toliara) The typical variety of this species has a small extent of occurrence (13,587.1 km²) and an area of occupancy of 4,431.66 km². Recorded from 10 localities and comprises three subpopulations.
Altitude range: Elevation 0-499 metres above sea level.
Habitat: Subtropical or tropical coastal rainforests with a sandy soil. The specimens from Sainte-Marie island were all collected in 1880 suggesting that the species is now extinct there. The species is threatend by habitat degradation, fire, collection for national and international horticultural trade.
Synonyms:
See all synonyms of Euphorbia lophogona
Common Names include:
ENGLISH:
White Crown of Thorns, Randramboay
RUSSIAN (Русский):
Молочай гребенчатый
SWEDISH (Svenska):
Kameuforbia
Description: Euphorbia lophogona is a medium-sized ever-green or semi-deciduous succulent shrub, up to 120 cm tall
Stem: Unbranched or sparsely branched, sometimes spiraling, narrowing to the top, with longitudinal rows of thorns, with a diameter of 3 cm. The branches are 5-angled, broadening toward the tips, have grey leaf-scars, and are dark green to olive brown.
Leaves: Glossy bright green, elliptic, 12 by 2.5(-5) cm long, fleshy to quite leathery, with a prominent mid-vein, laced with white veins, and grow near the top of a stem. The leaf-stalks are 1.5 cm long and rather thick.
Flowers: The inflorescence of this species is usually on stalks, the true flowers are yellowish-green encircled by large white to pink pseudo flowers on a greenish-red stalk.
Blooming season: Summer.
Remarks: E. lophogona var. lophogna is distinguished from Euphorbia lophogona var. tenuicaulis, which is smaller and has whitish or pink pseudo flowers. Hybrids from this plant (e.g. Euphorbia x lomi (Euphorbia lophogona x Euphorbia milii) are among the most popular succulent plants in the international trade.
Subspecies, varieties, forms and cultivars of plants belonging to the Euphorbia lophogona group
Bibliography: Major references and further lectures.
1) Urs Eggli "Illustrated Handbook of Succulent Plants: Dicotyledons" Springer Science & Business Media, 2002
2) Debra Lee Baldwin "Succulent Container Gardens: Design Eye-Catching Displays with 350 Easy-Care Plants" Timber Press, 20/Jan/2010
3) Werner Rauh, Herman Schwartz "Succulent and xerophytic plants of Madagascar" Volume 2 Strawberry Press, 1998
4) Huxley, A. "New RHS Dictionary of Gardening" 1992
6) Jankalski, S. "Crown of thorns hybrids past and present" . Cact. Succ. J. (US). 72:202 - 204. 2000.
7) Smoley, R. "Giant-flowered Euphorbia milii hybrids" Cact. Succ. J. (US). 72:198-200 2000.
8) John McLaughlin and Joe Garofalo "Crown - of – Thorns (Euphorbia milii)" Publications for the residents of Miami-Dade County. Fact-sheet No. 65. Printed 4 2002
13) Haevermans, T. 2004. Euphorbia lophogona. "The IUCN Red List of Threatened Species." Version 2014.1. <www.iucnredlist.org>. Downloaded on 09 July 2014.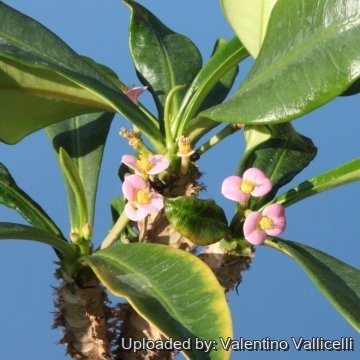 Euphorbia lophogona
Photo by: Valentino Vallicelli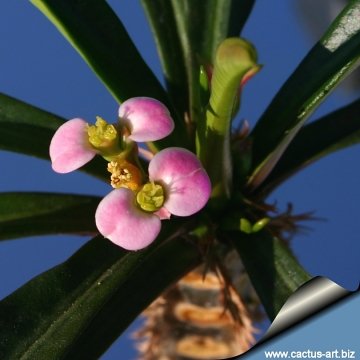 Euphorbia lophogona
Photo by: Cactus Art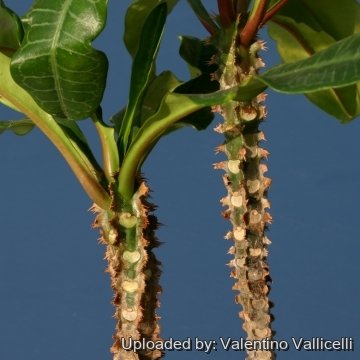 Euphorbia lophogona
Photo by: Valentino Vallicelli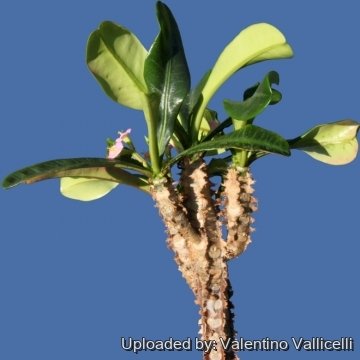 Euphorbia lophogona
Photo by: Valentino Vallicelli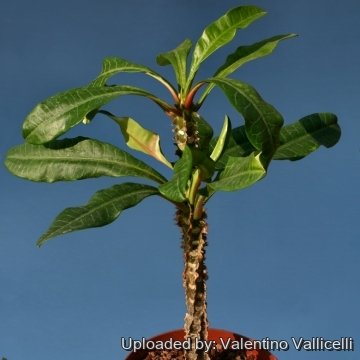 Euphorbia lophogona
Photo by: Valentino Vallicelli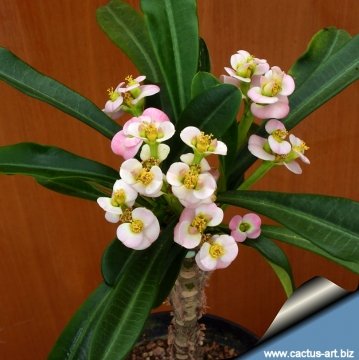 Euphorbia lophogona
Photo by: Cactus Art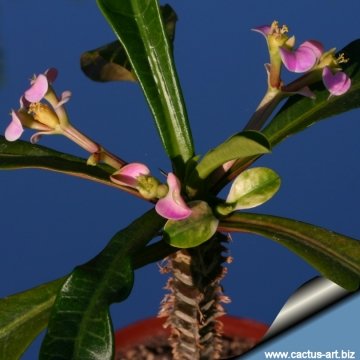 Euphorbia lophogona
Photo by: Cactus Art
Send a photo of this plant.
The gallery now contains thousands of pictures, however it is possible to do even more. We are, of course, seeking photos of species not yet shown in the gallery but not only that, we are also looking for better pictures than those already present.
Read More...
Cultivation and Propagation: Half sun to lit shade appears to be the optimum range but tolerate the most shade. Relatively flexible in its watering requirements. They can be watered regularly as long as the medium is open and well drained. As with any normal plant when watering, it is best to do so thoroughly, until a little water comes out through the drain holes. Allow the medium to dry out somewhat between waterings. Reduce watering to once every 1.5 weeks during winter. Space plants apart to allow air movement between branches and leaves. This will help with evaporation of extra water droplets collected during watering.
The ideal potting-medium is one with good moisture-retaining capacity but open and well drained with some extra manure for added nutrition. Regular fertilizing with low nitrogen and high phosphorus and potassium ratios are preferred. Feed during spring and summer to mid autumn and withhold feeding during winter. Tall plant will benefit from being staked, with bamboo or other suitable stakes, in order to stabilize the plants and provide a counterbalance to the weight of the masses of flowers. In the absence of staking, the stems of the plants will be under extreme pressure and may snap under the weight. Very tender, protect from frost.
Propagation: Cuttings It is recommend taking Euphorbia cuttings in Spring/Summer when the plant is growing so that they have a better chance of success. They key is heat & good air circulation. These cuttings should be dipped in Hormone powder (but it is not needed) and left for a period of 3-4 weeks to callous. Then pot the cutting and don't water ( or kept slightly moist) until rooted. These will root just fine, if you can put the pot outside in the summer, or put pot on a heating pad.
Warning: As with all other Euphorbias when a plant get damaged it exudes a thick white milky sap known as latex. This latex is poisonous and particularly dangerous for the eyes, skin and mucous membranes. So pay extreme attention not to get any in your eyes or mouth. Cultivated plants must be handled carefully.