Donate now to support the LLIFLE projects.
Your support is critical to our success.
Since 4 Aug 2013
sponsored link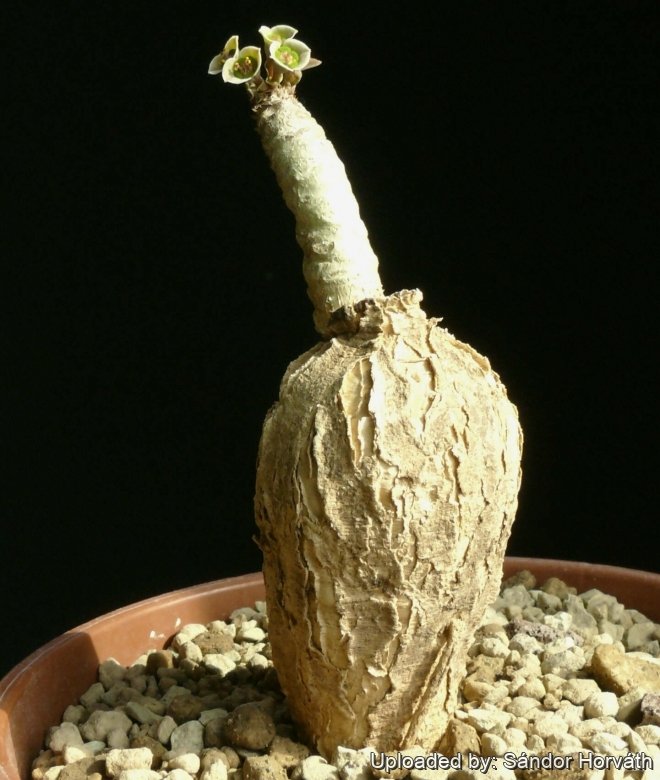 Euphorbia primulaefolia Photo by: Sándor Horváth
Origin and Habitat: This species dwells over a wide region in the highlands of central-western Madagascar.
Altitude range: ± 1400 metres above sea level.
Habitat and ecology: Euphorbia primulifolia occurs on a variety of gritty substrates: quartzite, granite, gneiss or basalt. The plants grows below ground with only a small rosette of leaves barely visible among thick tufts of grass.
Synonyms:
Description: Euphorbia primulifolia (var. primulifolia) is one of true tuberous geophytes from Madagascar which aerial portions is reduced to a rosette of leaves from which emerge coloured flower cups. The whole vegetative system is condensed to a large subterranean organ. Sometimes known in cultivation as Euphorbia subapoda Baill., E. primulifolia was described earlier in J. Linn. Soc, Bot 18:278, 1881.
Root: Tuberous, underground in the wild, to 15 cm long, and 7 cm in diameter, merging into a short stem below ground, often raised in cultivation.
Leaves: 4-6 arranged in a rosette at the tip of the branches at ground-level, spreading, arching flat or undulate, linear lanceolate or obovate, 8-11 cm long and 3-4cm wide, usually with short petiole (less than 4 cm long). Margin crenulate.
Inflorescence (cymes): 1-to 2-forked with 2-4 cyathia on a 10-20 mm long peduncle. Cyathophylls (coloured bracts around the cyathium), white to pink spreading, deltoid, to 7 mm long, 10 mm wide, outer margins toothed, whitish. The cyathia are 4-6 mm high and 3mm wide. There are five nectar glands which are elliptic-oblong and green. The ovary is green, obtusely lobed, and on a short pedicel, ± 1 mm long. The styles are green and fused for 1/3 of their length.
Fruits (capsule): Glabrous.
Chromosome number: 2 n = 40
Subspecies, varieties, forms and cultivars of plants belonging to the Euphorbia primulaefolia group
Euphorbia primulaefolia

Baker

: has flat or undulate, linear or obovate leaves , 8-11 cm long and 3-4cm wide with petioles to 4 cm long. Cyathophylls white to pink. Distribution. Central Madagascar.

Euphorbia primulifolia var. begardii

Cremers

: has strongly undulate leaves, shorter petioles and the smaller, rose to pale-green cyathophylls.
Bibliography: Major references and further lectures
1) "The Euphorbia Journal" Strawberry Press, 1987
2) Cremers, G. "Les euphorbes coralliformes de Madagascar." Bull. Jard. Bot. Belg 54: 367-391 1984
3) Werner Rauh "Succulent and xerophytic plants of Madagascar", Volume 1 Strawberry Press, 1995
4) "Berichte der Deutschen Botanischen Gesellschaft", Volume 84 Deutsche Botanische Gesellschaft, 1971
5) Eggli, U., ed. "Illustrated handbook of succulent plants: Dicotyledons". 2002
6) A. Jolly, P. Oberle, R. Albignac "Key Environments: Madagascar" Elsevier, 22 October 2013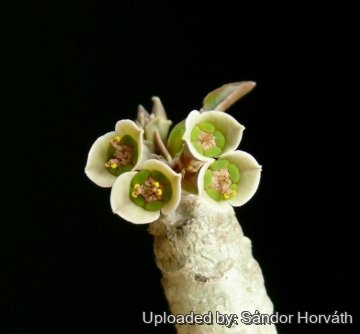 Euphorbia primulaefolia
Photo by: Sándor Horváth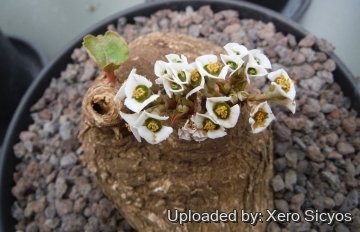 Euphorbia primulaefolia
Photo by: Xero Sicyos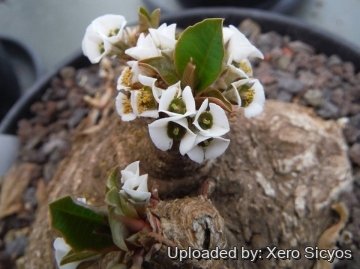 Euphorbia primulaefolia
Photo by: Xero Sicyos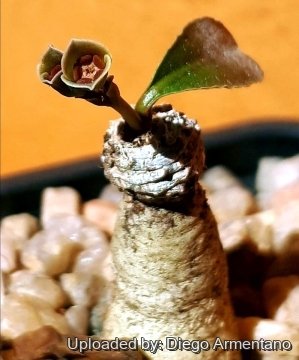 Euphorbia primulaefolia
Photo by: Diego Armentano
Cultivation and Propagation: Euphorbia primulaefoliaSN|32368]]SN|32368]]is an attractive, but slow growing species needing the typical euphorb culture with bright light, well draining substrate and watering in the growing season allowing drying between waterings. Like all the other species from Madagascar, this plant needs a temperature of at least 10°C (50°F) in winter and will do better if kept even warmer. An occasional light watering in winter will prevent excess dehydration. Rare in cultivation.
Growth rate: It is a slow growing long lived plant and once established, it will be content in its position and with its soil for years.
Exposure: A very very light and warm place in full sun is highly appreciated, but can tolerate moderate shade, and a plant that has been growing in shade should be slowly hardened off before placing it in full sun as the plant will be severely scorched if moved too suddenly from shade into sun.
Soil: It does best in a mineral soil, good drainage is essential.
Watering: Water sparingly during the summer months and keep dry in winter. In the short growing season it likes ample water and in this period it grows rather quickly, though not for a long time. When not in growth it is killed right away, when given too much water.
Frost Tolerance: Tender, it needs frost protection. Recommended minimum temperature is 12 °C or even above.
Propagation: It is propagated from seed sown during spring or summer. Germination occurs within 3 weeks. Sowing seed of this self fertile species is the surest method of growing typical offspring and seedlings are in the first season relatively easy to grow. Thanks to its freely branching habit it can be propagated by rooting cuttings of the branches. It can be grafted as well.
Warning: As with all other euphorbias when a plant get damaged it exudes a thick white milky sap known as latex. This latex is poisonous and particularly dangerous for the eyes, skin and mucous membranes. So pay extreme attention not to get any in your eyes or mouth. Cultivated plants must be handled carefully.