Donate now to support the LLIFLE projects.
Your support is critical to our success.
Since 4 Aug 2013
Pyrenacantha malvifolia Photo by: K.k. Agrawal
There are little secretion drops at the end of leaves, these are oilish on touch.
Origin and Habitat: East Africa (Ethiopia, Somalia, Kenya, Tanzania).
Altitude range: 400–1560 metres above sea level.
Habitat: It grows on dark red, iron stained, soils with fine grained quartz gravel in the Indo-Saharan formation, an unbroken dry tract where tropical semi-desert plant communities occupy a far greater area than on the whole of the remainder of the earth. Furthermore, the dominant life-forms are very similar to those composing the cactus scrub of the Americas; thorny and succulent plants predominate throughout. There are succulent 'trees' such as Euphorbia tirucalli, intermixed with thorny bushes over which sprawl vines and creepers like Cissus quadrangularis and Cissus rotundifolia. Thorny, cactus-like plants such as Euphorbia heterochroma are almost universal along with other succulents of a great variety of forms. Probably the strangest form of all is represented by the climbers, Pyrenacantha malvifolia and Adenia globosa wich have enormous half-submerged water-storing tubers up to l m or more in diameter and almost as high. The oryx also makes use of the swollen stem storage organs of Pyrenacantha malvifolia, and digs for underground tubers.
Synonyms:
See all synonyms of Pyrenacantha malvifolia
Accepted name in llifle Database:
Pyrenacantha malvifolia
Engl.
Sitzungsber. Königl. Preuss. Akad. Wiss. Berlin 18: 268 1893
Synonymy: 4
Common Names include:
ENGLISH:
Monkey Chair
Description: Pyrenacantha malvifolia is an especially striking succulent, considered by many to be the the largest above ground caudex in the plant kingdom. At maturity, its massive, swollen caudex resembling a rock can reach up to 1,5 m across and is topped by vine-like stems clinging up into the general canopy. It is usually a dioecious species producing orange-red fruits on female plants, but also monoecious or rarely with hermaphrodite (bisexual) flowers which appear to set seed spontaneously in cultivation. Flowers are very small. It is a very variable taxon.
Caudex (water-storing tuber): Enormous semi-spherical often deformed and irregularly shaped, completely above-ground or some-what half-submerged up to l m or more in diameter and and 75 cm tall.
Stems: Many, partly deciduous or perennial, vine-like, climbing or twining up to 15 m long, thickish developing from the apex of the caudex with only few leaves at apex. Young stems pubescent, green, with scattered pale lenticels, soon grey and glabrous, older stems and tuber with greyish-white to buff, papery flaking and smooth bark.
Leaves: More or less pubescent with appressed hairs; blade broadly ovate, reniform or cordate, 4–12 cm long 3–13 cm wide, acute to broadly emarginate at the apex, cordate at the base, with palmate venation (sometimes branched), with 3, 5, 7 (-8) shallow irregular lobes, lobes rounded except the central lobe which is mucronate to emarginate; petiole 1.5–4.5(–8.5) cm long.
Flowers: On spikes without evident peduncle on new shoots before or during early leaf. Corolla yellowish-green, with lobes c. 1.5 mm long, pubescent outside. Male flowers, sessile, in up to 6 cm long tomentose spikes. Female flowers in short lateral spikes with hydathodes apically, sometimes on short branches at base of male spikes, staminodes absent or present, sometimes with stamens with sterile anthers; ovary ovoid, densely hairy. Stile sessile with radiating lobes. Bisexual flowers sometimes present at base of male spikes.
Fruits (drupes): Ellipsoid, somewhat compressed, 15–20 mm long, 10–14 broad and 7–10 mm thick, becoming yellowish on ripening, hispid.
Subspecies, varieties, forms and cultivars of plants belonging to the Pyrenacantha malvifolia group
Bibliography: Major references and further lectures
1) Urs Eggli "Illustrated Handbook of Succulent Plants: Dicotyledons" Springer, 2002
2) S. R. Eyre "Vegetation and Soils: A World Picture" AldineTransaction, 01/Feb/2013
3) Frank White, Unesco, United Nations Sudano-Sahelian Office "The vegetation of Africa: a descriptive memoir to accompany the Unesco/AETFAT/UNSO vegetation map of Africa" Unesco, 1983
4) Cynthia Hunter "Tsavo National Park" I. May--Publicity, 1971
5) M. Thulin "Flora Somalia" Vol 2 1999 [updated by M. Thulin 2008]
6) G. Ll. Lucas "Flora of Tropical East Africa" 1968
Pyrenacantha malvifolia
Photo by: K.k. Agrawal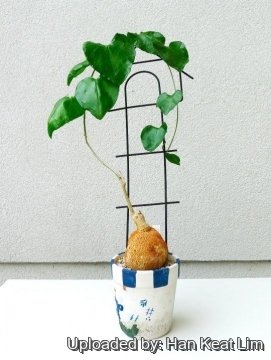 Pyrenacantha malvifolia
Photo by: Han Keat Lim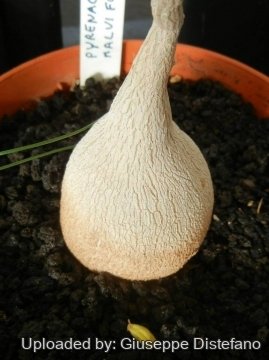 Pyrenacantha malvifolia
Photo by: Giuseppe Distefano
Pyrenacantha malvifolia
Photo by: Giuseppe Distefano
Cultivation and Propagation: Pyrenacantha malvifolia is of easy cultivation and hardy. Although it shows decreased activity in the January – April period, it never goes into complete dormancy and always carries some leaves. Conversely it can be deciduous in winter if kept cold and dry.
Exposure: It prefers sun or light shade, but the tuber should stay constantly in the shade.
Watering: The plant will take regular water and fertilizer in summer. Rot prone in winter; keep on the dry side and water only enough to keep the tuber from shrivelling.
Soil: It grows well in most soils, and only requires very fast drainage.
Hardiness: Prefers nighttime temperatures no cooler than 10° C, especially in the winter. Will tolerate temperatures to 45° C, and short periods of frost, but prolonged cold will damage or kill the plant. Protect from frost.
Maintenance: It is a vigorous twiner and is best trained around a hoop or up a framework, but tends to vine around nearby plants if kept in a pot on a shelf, so it needs to be controlled a bit... give it something to wind around to keep it away from the other plants.
Disease and pests: The Pyrenacantha are almost pest free outdoors, but may attract whiteflies if kept in humid greenhouse environments, and some kind of control might be needed. The plant are also attractive to mealy bugs and the aphid occasionally feeds on young stems.
Rot: Rot it is only a minor problem with Pyrenacantha if the plants are watered and "aired" correctly. If they are not, fungicides won't help all that much. It is very unlikely to lose this plant from root rot from excessive water. Reliable as a permanent collector's plant.
Propagation: Pyrenacantha is best propagated from seed. Cuttings will give limited success.