Donate now to support the LLIFLE projects.
Your support is critical to our success.
Since 4 Aug 2013
sponsored link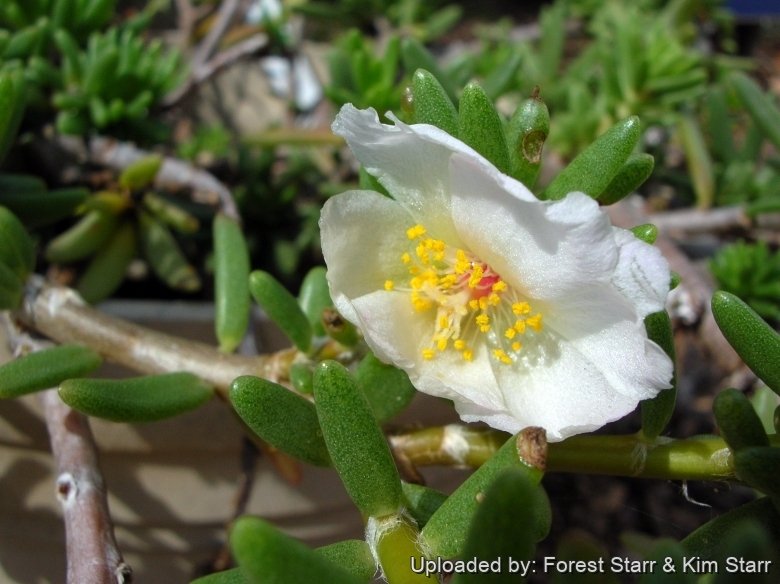 Portulaca villosa Photo by: Forest Starr & Kim Starr
Habit at Maui Nui Botanical Garden, Maui, Hawaii (USA). April 07, 2005.
Origin and Habitat: This is an uncommon endemic species of Hawaii islands ( Oʻahu, Molokaʻi, Lānaʻi, Maui, Kahoʻolawe, Hawaiʻi, Northwest Islands except Kauai and Ni'ihau) USA
Altitude range: From sea level to over 500 metres.
Habita and ecology: Portulaca villosa is naturally found in dry, rocky, clay, lava, or coralline reef sites. This is an endemic species and is considered "vulnerable" - likely to become endangered in the near future.
Synonyms:
See all synonyms of Portulaca villosa
Accepted name in llifle Database:
Portulaca villosa
Cham.
Linnaea 6: 565. 1831
Synonymy: 5
Common Names include:
ENGLISH:
Hairy purslane
HAWAIIAN (ʻŌlelo Hawaiʻi):
ʻIhi, Ihi
SPANISH (Español):
Diez del día (Cuba)
Description: Portulaca villosa is a spreading annual or perennial (greater than 5 years) succulent herb up to 30 cm tall, that is known to have a 60 cm spread. Flowers of this species are white, pink, or pink with a white base. It appears scarcely different from Portulaca pilosa except in the seeds which are smooth or when considerably magnified minutely marked with sinuous areolations.
Root: Fleshy taproot.
Stem: Non-woody, prostrate or semi-erect, fleshy, herbaceous, branching, terete 1.5-3.0 mm in diameter up to 30 cm long; purplish red, or greenish on new shoots or where sheltered from light by overlying shoots.From almost glabrous to pilose, with long white axillary matted hairs about 5 mm. long. Pilosity variable on the same individual and probably variable at different seasons, under different conditions, and in different populations.
Leaves: Alternate, obovate to awl-shaped, variable, narrowly lanceolate, elliptical, or oblanceolate 3-22 mm long, 1-3 mm in diameter closing against the stem at night, light Green to pale greyish green with yellowish brown hairs, hence the species name villosa meaning "hairy." Axillary hairs to 12 mm long. Petiole 1-2 mm long, pale green in color.
Inflorescence: Three to 7-flowered at the tips of the stems.
Flowers: Sepals c. 5 mm long, 4 mm wide. Petals (4-) 5 (-6), obovate, to 8 mm long, 5 mm wide, rather longer than the sepals white or pink with or without white base. Stamens 18-50.
Blooming Period: Year Round, sporadic.
Fruits: Ovate, c. 3- 5 mm long and 3-4 mm in diameter filled with seeds. The capsules split open when ripe at 1/3 glossy, straw-yellow, operculum sometimes not deciduous and thickish.
Seeds: About 0.6-0.7 mm in diameter, glossy dark reddish brown; testa cells stellulate or irregular.
Taxonomic notes: Portulaca sclerocarpa, here placed in synonymy following Geesink (1969), has indehiscent hardened fruits and might merit species status.
Bibliography: Major references and further lectueres
1) Neal L. Evenhuis "Natural History of Nihoa and Necker Islands" page 61.
2) Native Plants Hawaii. "Portulaca lutea" 2009 University of Hawaii. <http://nativeplants.hawaii.edu/plant/view/Portulaca_villosa> Web. 30 Nov. 2014.
3) Urs Eggli "Illustrated Handbook of Succulent Plants: Dicotyledons" Springer Science & Business Media, 2002
4) Asa Gray "United States Exploring Expedition: 15: Botany" 1854
5) Heidi Leianuenue Bornhorst "Growing Native Hawaiian Plants: A How-to Guide for the Gardener" Bess Press, 01Apr/2005
6) Peter Hanelt, Institute of Plant Genetics and Crop Plant Research, W. Kilian "Mansfeld's Encyclopedia of Agricultural and Horticultural Crops: (Except Ornamentals)" Springer Science & Business Media, 10/Apr/2001
7) Warren Lambert Wagner, Derral R. Herbst, S. H. Sohmer "Manual of the Flowering Plants of Hawaii" Ed.2 University of Hawaii Press, 1990
8) "Occasional Papers of Bernice Pauahi Bishop Museum" Bishop Museum Press, 1984
9) Wagner, Warren L., Darrel R. Herbst, and S. H. Sohmer. 1990. "Manual of the flowering plants of Hawai'i" 2 vols., Bishop Museum Special Publication 83. Honolulu: University of Hawaii Press and Bishop Museum Press. p. 1074-1075.
10) Forest & Kim Starr "Portulaca villosa (Ihi)". Plants of Hawaii. <http://www.starrenvironmental.com>. 23 Nov. 2014.
Flowers at Kanaio beach, Maui (USA). December 19, 2000.
Photo by: Forest Starr & Kim Starr
Flower and leaves at Kahanu Gardens NTBG Kaeleku Hana, Maui, Hawaii (USA). November 04, 2009.
Photo by: Forest Starr & Kim Starr
Habit at LaPerouse, Maui, Hawaii (USA). April 10, 2004.
Photo by: Forest Starr & Kim Starr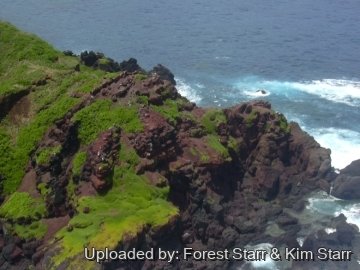 Habitat at Alau, Maui, Hawaii (USA). April 05, 2005.
Photo by: Forest Starr & Kim Starr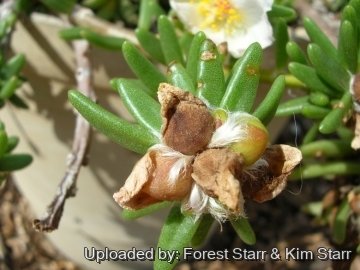 Capsules at Maui Nui Botanical Garden, Maui, Hawaii (USA). April 07, 2005.
Photo by: Forest Starr & Kim Starr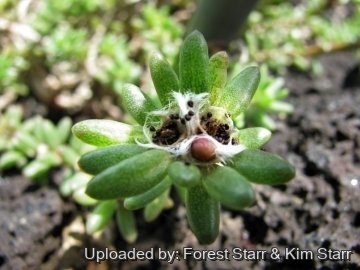 Seeds and capsules at Kahanu Gardens NTBG Kaeleku Hana, Maui, Hawaii (USA). November 04, 2009.
Photo by: Forest Starr & Kim Starr
Flowers at Maui Nui Botanical Garden, Maui, Hawaii (USA). May 04, 2012.
Photo by: Forest Starr & Kim Starr
Send a photo of this plant.
The gallery now contains thousands of pictures, however it is possible to do even more. We are, of course, seeking photos of species not yet shown in the gallery but not only that, we are also looking for better pictures than those already present.
Read More...
Cultivation and Propagation: Portulaca villosa is rarely grown in tropical climates as an ornamental plant for annual bedding or as a container plant. It requires ample sunlight and well-drained soils. Although it survives difficult conditions, plants will produce more lush growth and flowers when provided sufficient moisture and rich soils. The plants can be long-lived providing they are regularly supplied with adequate light, moisture, and nutrients. They can also be successfully "overwintered" if kept on the dry side and out of the frosts. These are great potted plants for the often harsh conditions on full sun and windy porches. This species has proven to be a great indoor plant, but only if used in a very sunny window planted excellent drainage.
Soils: it grows well in poor, sandy or gravelly soils. The soil must be very well-drained. It will also thrive in well-drained containers with a mulch of pebbles or sand.
Exposure: Needs full sun to flower.
Tolerances It tolerate drought, wind, salt spray and heat.
Waterings: It likes to be grown on the dry side and will die in soggy soil. It is drought tolerant, but flowers best with regular watering. Don't water with overhead irrigation, which can damage the flowers. It need well drained soil and should be watered in the morning to allow the pot to dry out during the day.
Hardiness: Plant seeds or set out plants after all danger of frost has passed.
Pests and diseases: These succulents are prone to attacks from slugs, ants, mealy bugs, scale, thrips, spider mites and aphids, and root mealy bugs. Fungal rot can be a major problem so do not let water remain on the surface.
Garden Uses: Good for poor dry soils where many other plants struggle. Edging or ground cover for beds, rock gardens or along walks. Containers, hanging baskets. Sprawl over stone walls.
Other uses: Experimentally cultivated in Cuba as a medicinal plant.
Maintenance: Toward the end of the summer purslane can wear out, exhausted from flowering and setting seeds. Pinch out branch tips if you want bushier plants.
Propagation: By Cuttings and seeds. Portulaca villosa is easy to grow from tip cuttings. Rooting hormones and mist systems are not necessary. Cuttings should be 5-12 cm long and the lower leaves should be removed. Sterile potting mix can be used as a rooting medium. The cuttings should be watered daily. They will root in a couple of weeks. Sow the seeds on the surface of a pre-moistened, sterile, well draining mix. Do not cover the seeds with planting mix.