Donate now to support the LLIFLE projects.
Your support is critical to our success.
Since 4 Aug 2013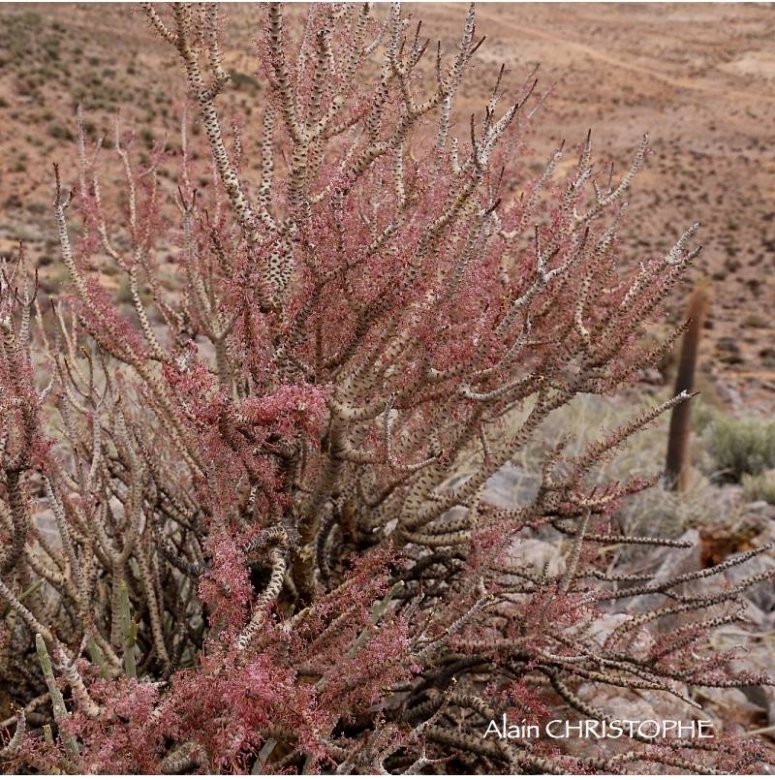 Blooming habit. Profusion of small pink flower with reflexed petals are seen in spring ( photographer Alaín Christophe).
Origin and Habitat: Ceraria namaquensis has a fairly widespread habitat in South Africa (Little Namaqualand) and Namibia (Richtersveld, Bushmanland and Gordonia).
Habitat and ecology: Desert, Nama Karoo, Succulent Karoo. This is an extremely arid, winter-rainfall area. Ceraria namaquensis grows in open shrubland together with Euphorbia virosa on rocky outcrops, mainly rather strongly weathered gneiss as well as small sparsely scattered quartzitic outcrops. This species has tiny leaves to combat moisture loss through transpiration. These leaves drop off altogether during summer when evaporation is at its greatest and the plant enters a dormant stage. It is widespread, common and not in danger of extinction.
Synonyms:
See all synonyms of Ceraria namaquensis
Accepted name in llifle Database:
Ceraria namaquensis
(Sond.) H.Pearson & Stephens
Ann. S. African Mus. ix. 33 (1912)
Synonymy: 3
Common Names include:
ENGLISH:
Namaqua porkbush, Namaqualand Ceraria, False Portulacaria
AFRIKAANS (Afrikaans):
Hotnotsriem, Wolftoon, Nama spekboom
Description: Ceraria namaquensis is a waxy, fleshy and very slow growing, woody stemmed desert shrub or small tree. It grow 1.3 to 1.8 (-5) m high and presents a unique appearance. The stems are stout and grow upwards, forking and are covered by many short, spiky semi-deciduous, succulent leaves. Profusion of small pink flowers (male and female on different plants) with reflexed petals are seen in spring. The occurrence of short shoots (brachyblasts) tcreated some resemblance to a species of Alluaudia (Didiereaceae) of Madagascar.
Derivation of generic name: The generic name is based on the Greek "cera", meaning "a little horn", possibly in allusion to the forked and somewhat horn-like branches of Ceraria namaquensis.
Stems: Branches ascending, rather thick, bark smooth silver-grey, to brown, the younger branches pale greyish-green to almost creamy-white with a papery cortex and dichotomous, the ultimate as thick as a goose-quill, with transverse oval scars arranged in 4-16 vertical rows. The long upright brancehs bears distinctive, very reduced lateral side branches (brachyblasts) with hardly more than slightly raised black, almost pustular patches scattered all along the stems.
Leaves: Ovoid simple, paired, groups or fascicled, minute, fleshy, narrow, ovoid, club-shaped often almost cylindrical, green or grey-green 4 to 8 mm long and not more than 2 mm wide and sessile. The leaves are produced on short shoots (brachyblasts) and densely coat the stems. The ceraria loses its leaves during the summer drought in the wild but in cultivation seems to retain its leaves year round, and a certain degree of growth.
Flowers: Small, ethereal and attractive, in short, few-flowered, axillary sprays 3-4 cm long, pale pink to deep pink, plant dioecious (sexes separate but apparently on the same plant ). Peduncles 13-17 mm long, angular, unbranched. Pedicels involucrated by some minute ovate bracts, about 4 mm long, solitary or few. Calyx 2-phyllous, three times shorter than the 5 rose-colored, obovate, near 2 mm long star-like petals. Nale flowers with 5 stamens; filaments linear. Anthers oblong, emarginate at both ends,ovary 3-angled butstigma absent. Female flowers with 3-angled ovate ovary. Style short, with 2 or 3 branches, stamens 5, sterile.
Bibliography: Major references and further lectures
1) Hermann Jacobsen "Abromeitiella to Euphorbia" Blandford Press, 1960
2) Eve Palmer, Norah Pitman "Trees of Southern Africa, covering all known indigenous species in the Republic of South Africa, South-West Africa, Botswana, Lesotho & Swaziland", Volume 1 A. A. Balkema, 1972
3) "Koedoe" South Africa. National Parks Board of Trustees 1996
4) "Veld & Flora", Volume 77 Botanical Society of South Africa, 1991
5) Keith Coates Palgrave, R. B. Drummond, Eugene John Moll, Meg Coates Palgrave "Trees of Southern Africa" Struik Publishers, 2002
6) Bruyns, P.V., Oliveira-Neto, M., Melo-de-Pinna, G.F. and Klak, C. 2014. "Phylogenetic relationships in the Didiereaceae with special reference to subfamily Portulacarioideae." Taxon 63(5):1053-1064.
7) Wikipedia contributors. "Ceraria namaquensis." Wikipedia, The Free Encyclopedia. Wikipedia, The Free Encyclopedia, 4 Oct. 2016. Web. 4 Oct. 2016.
8) Frandsen, R. 1999. "Ceraria namaquensis." Aloe 36(1):20.
9) Glen, H.F. 2002. "The synonomy of Ceraria namaquensis (Sond.) H. Pearson & E.L. Stephens." Bothalia 32(2):196-197.
10) Pearson, H.H.W. and Stephens, E.L. 1912. "List of the plants collected in the Percy Sladen Memorial Expeditions, 1908-9, 1910-11: Portulacaceae." Annals of the South African Museum 9:30-35.
11) Raimondo, D., von Staden, L., Foden, W., Victor, J.E., Helme, N.A., Turner, R.C., Kamundi, D.A. and Manyama, P.A. 2009. "Red List of South African Plants." Strelitzia 25. South African National Biodiversity Institute, Pretoria.
12) Snijman, D.A. 2013. "Plants of the Greater Cape Floristic Region 2: The extra Cape flora." Strelitzia 30. South African National Biodiversity Institute, Pretoria.
13) Sonder, W. 1861. "Portulacaceae. In: W.H. Harvey and O.W. Sonder (eds). Flora Capensis II (Leguminosae to Loranthaceae)":381-386. Hodges, Smith and Co., Dublin.
14) von Staden, L. 2015. "Portulacaria namaquensis Sond." National Assessment: Red List of South African Plants version 2015.1. Accessed on 2016/12/18
15) Ernst Van Jaarsveld, Ben-Erik Van Wyk, Gideon Smith "Succulents of South Africa: A Guide to the Regional Diversity" Tafelberg, 2000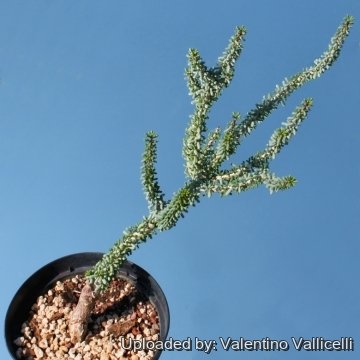 - It is a wonderful shrub up to a man's height, with a few branches, and many tiny ovoidal leaves along its stems. Interesting for bonsai work, and relatively easy to grow, but very slow.
Photo by: Valentino Vallicelli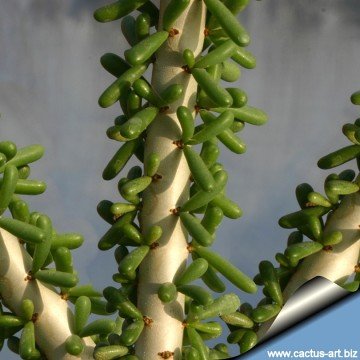 Ceraria namaquensis
Photo by: Cactus Art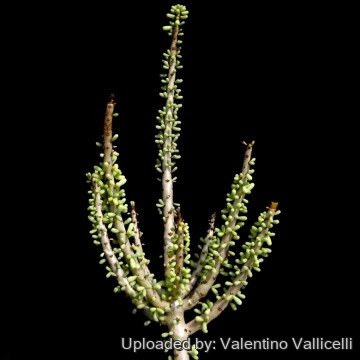 Ceraria namaquensis
Photo by: Valentino Vallicelli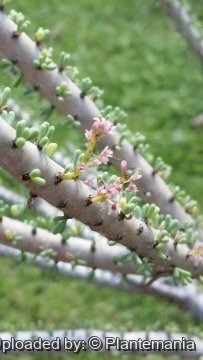 Ceraria namaquensis
Photo by: © Plantemania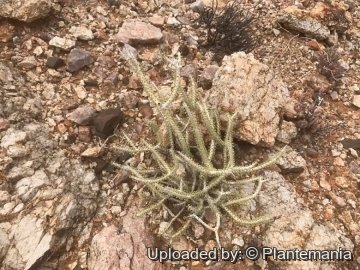 Ceraria namaquensis
Photo by: © Plantemania
Ceraria namaquensis
Photo by: Valentino Vallicelli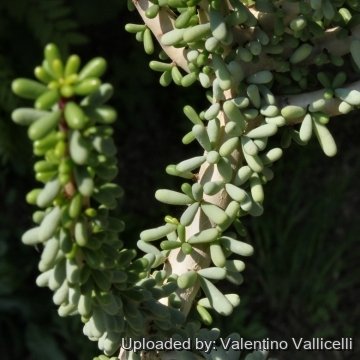 Ceraria namaquensis
Photo by: Valentino Vallicelli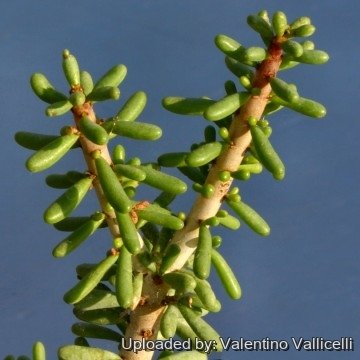 Ceraria namaquensis
Photo by: Valentino Vallicelli
Cultivation and Propagation: Ceraria namaquensis is usually grown grafted on Portulacaria afra. This is a natural bonsai, and relatively easy to grow, but very slow growing and seems to want to grow all the year round in the greenhouse. Seedlings and rooted cuttings are more sensitive and cannot tolerate stagnant water around their roots (especially in winter) as this species comes from very dry areas. Keep warm in winter.
Propagation: Seeds, cuttings or (usually) grafting. It is said many times that C. namaquensis is impossible to root and so it is usually grafted on to stems of Portulacaria afra. Furthermore is very easy to graft it onto the Portulacaria and the two plants grow very well when grafted. The easiest grafting methode involves cutting the basal end of the scion in the form of a wedge using a scalpel. A corresponding cut is made in the apical end of the rootstock to take the wedge. The wedge of the scion is inserted into the cut, the area is bound to hold it together, and the union is sealed with grafting wax. Stocks and scions should be matched so that they are of a similar thickness and care must be taken to ensure that the cambium layers line up correctly. The graft union must be a snug fit with no gaps, and care must be taken not to touch the grafting plane with one's fingers. It is beneficial to leave a few lateral shoots on the stock plant to nurture the cutting whilst roots develop. But despite that, cuttings taken in summer have proved to be able to root in commercial peat blocks (often used for rooting more difficult items such as rarer euphorbias, Madagascan thorn bushes and stems of Pachypodium succulentum). A good percentage of cuttings survive well in the moist peat blocks and after about three months begin to root and grow. Portulacaria afra and Ceraria namaquensis (the wolftoon) are the only members of the family which grow to tree size.