Donate now to support the LLIFLE projects.
Your support is critical to our success.
Since 4 Aug 2013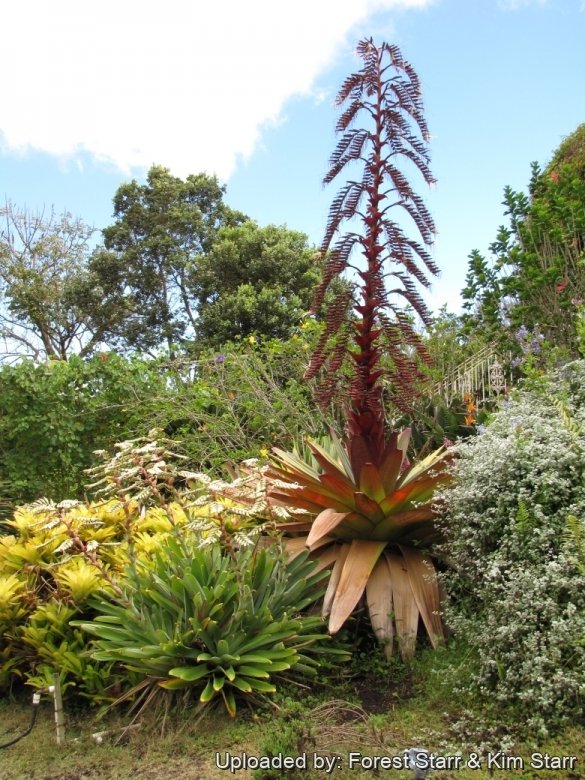 Vriesea imperialis Photo by: Forest Starr & Kim Starr
Flowering habit at Enchanting Floral Gardens of Kula, Maui, Hawaii (USA). August 03, 2010.
Origin and Habitat: Southeastern mountains of Brazil, Rio de Janeiro State (Serra dos Orgaos; Pedra do Coni, Nova Friburgo; Parque Nacional, Teresopolis)
Altitude: Vriesea imperialis grows at an elevation of about 600-1500 metres
Habitat: This evergreen perennial is a lithophyte (saxicolous) or occasionally terrestrial, that naturally grows in the Atlantic forests on mountain cliffs mostly in or cracks on the rocks with little organic matter. Each plant establishes its' own micro habitat, with the gradual build up of humus, mosses and lichens around the root system providing a store of water and nutrients in addition to the reserves held in the copious leaf bases and vases. Three other large rupicolous species are often found in the same mountains, Vriesea nahoumii, Vriesea glaziouana and Vriesea regina. However, each of these species occupies a different part of the ecosystem. Due to the hight altitude this species can withstand relatively cool nights.
Ecology: These plants have an great impact on the whole ecosystem, as they are home to innumerable quantities of small animals, insects, reptiles and amphibians. In addition, the copious quantities of nectar and pollen, produced over the 5-month flowering period, form important food sources for bees, birds, moths and various insects.
Synonyms:
See all synonyms of Vriesea imperialis
Accepted name in llifle Database:
Vriesea imperialis
Carrière
Rev. Hort. [Paris]. 60: 56 (1888)
Synonymy: 4
Common Names include:
ENGLISH:
Giant Vriesea, Imperial Bromeliad, Giant bromeliad
PORTUGUESE (Português):
Bromélia-tanque, Bromélia-imperial
Description: Vriesea imperialis is truthfully one of the largest bromeliads of the world, reacing a height of 1,2 m tall in foliage, although it can take up to ten years to get to this size. It eventually bears a sturdy red flower stalk lined with clusters of ivory flowers up to 3-5 m tall when fully mature. The long-lasting flower stalk is very showy and resembles an ornate, upright chandelier. Vriesea imperialis is the most regal and is considered the signature species of this genus.
Stem: Very short, stocky and woody.
Rosette: Funnelform up to 1,5 m wide with numerous leaves congregate at the base to form a broad rosette that acumulates water and forest debris for nourishment. Mature rosette produce one or two small "pup" plants at their base. After flowering, the rosette will degrade and eventually die, allowing the young pup offshoots to replace it.
Leaves: Large, tongue-like, linear oblong, slightly ribbed, recurved, spineless, with a dark mint green or silvery blue-green superior page, and a purple inferior page, thick, coriaceous, leathery with a distinctive waxy bloom over the surface, giving a bluish colouration from a distance, up to 1 m long and 12-15 cm wide, wholly green or obscurely maculate toward base, glabrous above, minutely lepidote beneath. Sheaths very broadly elliptic, 25 cm wide, densely and minutely darklepidote; However it is a variable species with varying widths of leaf, and varying amounts of red or purple pigment comprising the very priced red and purle leaved types (a.k.a. "forma rubra" and "forma purpurea") and lots of green and intermediate foliage colours.
Inflorescence: Laxly bipinnate, slenderly pyramidal 2-5 m tall and 45 cm in diameter. The inflorescence is huge, erect and stout for a bromeliad exluding only the towering infloescences of species of the Andine genus Puya. Acape bracts ample, leathery, reddish, ovate acuminate, persistent for a long time. Branches recurved, 20-30 cm long, flexuous, reddish, densely 10-50-flowered. Each flower stem can produce between 400-600 white flowers protected by large rigid petal-like floral bracts which are ovate, acute, twice as short as the sepals. The color of the bracts may vary from purple to dark green or yellow. Flowers, slender, tubular, before anthesis the yellowish in the daytime, turning ivory-white as the flowers open fully at night, slightly fragrant. Sepals lanceolate, 40-50 mm long, acute, reddish, coriaceous. Petals to 10 cm long, with two ligules, banded. The flowers atract a profusion of flying animals, from bees, butterflies, to bats and birds.
Blooming seson: Early to mid-spring over a 5-month flowering period. Plants are monocarpic and start blossoming about when 6 to 15 years of old (depending on growing conditions) In the year before blossoming the number of leaves increases to almost double the normal, the centre became swollen and the inner leaf tips took on a reddish colour. The flowering head starts forming deep in the centre of the rosette, the spike roses to the top of the rosette and accelerates each day and continues growing until full development of the inflorescence in spring.
Fruits: Capsule slenderly ovoid, long-beaked, 55 mm long.
Seeds: Seeds with brownish coma at both ends. A single scape, if all the flowers would be successfully pollinated, may produce 80,000 to 200,000 seeds. Be aware that the seeds will float long distances if you don´t bag the seed heads.
Bibliography: Major references and further lectures
1) Forest & Kim Starr "Vriesea imperialis (Bromeliad)". Plants of Hawaii. <http://www.starrenvironmental.com>. Downloaded on 20 August 2014.
2) David H. Benzing "Bromeliaceae: Profile of an Adaptive Radiation" Cambridge University Press, 06/Apr/2000
3) Klaus Kubitzki, H. Huber "Flowering Plants. Monocotyledons: Alismatanae and Commelinanae (except Gramineae)" Springer Science & Business Media, 27/Aug/1998
4) Ulrich Baensch, Ursula Baensch "Blooming bromeliads" Tropic Beauty Publishers, 1994
5) Smith, L.B. & R. J. Downs. "Tillandsioideae (Bromeliaceae)" Part II. Flora Neotropica, Monograph 14(2): 663–1492 1977.
6) Wikipedia contributors. "Vriesea imperialis." Wikipedia, The Free Encyclopedia. Wikipedia, The Free Encyclopedia, 6 Jul. 2014. Web. 18 Sep. 2014.
7)"Flora Neotropica" Ed.14, Part 1 Organization for Flora Neotropica, 1974
8) Adda Abendroth "VRIESEAS AROUND TERESOPOLIS, BRAZIL" The Bromeliad Society Buletin" 17(3): May-June 1967
9) Christoper Brickell (Editor-in-chief) "RHS A-Z Encyclopedia of Garden Plants." Third edition. Dorling Kindersley, London 2003
10) Victoria Padilla "Bromeliads" New York: Crown Publishers. 1973
12) Victoria Padilla "The colorful bromeliads: their infinite variety" Bromeliad Society, 1981
13) "Vriesea imperialis" by John Higgins in Bromeliaceae July 1994
14) Kew Bulletin, Volume 3 H.M. Stationery Office, 1889
Habit at Enchanting Floral Gardens of Kula, Maui, Hawaii (USA). April 30, 2009.
Photo by: Forest Starr & Kim Starr
Habit at Enchanting Floral Gardens of Kula, Maui, Hawaii (USA). April 30, 2009.
Photo by: Forest Starr & Kim Starr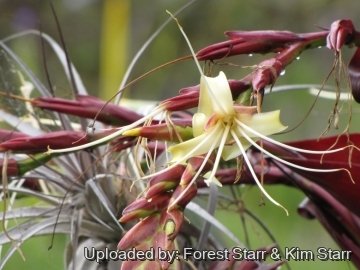 Flowers at Enchanting Floral Gardens of Kula, Maui, Hawaii (USA). August 03, 2010.
Photo by: Forest Starr & Kim Starr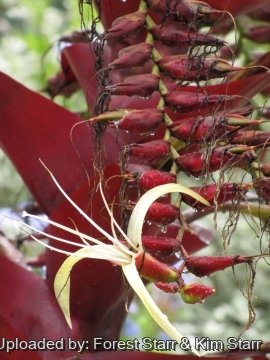 Flowers at Enchanting Floral Gardens of Kula, Maui, Hawaii (USA). August 03, 2010.
Photo by: Forest Starr & Kim Starr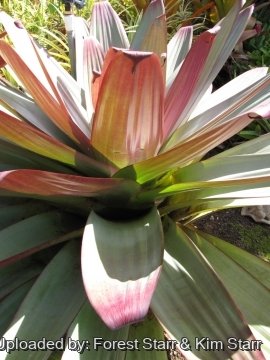 Habit at Enchanting Floral Gardens of Kula, Maui, Hawaii (USA). April 30, 2009.
Photo by: Forest Starr & Kim Starr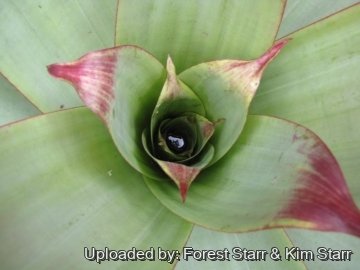 Center at Enchanting Floral Gardens of Kula, Maui, Hawaii (USA). August 03, 2010.
Photo by: Forest Starr & Kim Starr
Cultivation and Propagation: Vriesea imperialis is a bromelid of remarkable ornamental value, and of great landscape effect, due to its very informal foliage and the showy colour of the long summer inflorescence which lasts for some months. In late summer the flowering has finished, but colourful fruits start to develop in their place. These enlarge throughout the summer, adding their own purple splash of colour to the garden. In garden situations it is easily grown as a terrestrial or container plant, it is very durable and seems to thrive without a great deal of care.
Growing substrate: This bromeliad is typically grown in the ground in virtually any soil, but prefer free draining soil or in containers filled with very aerated, gravel/rock and rich of organic substance substrata. Perfect drainage is a must. It is easily transplanted; however, it can also be grown in a garden bed, where it will form big specimens.
Exposition: In the garden Vriesea imperialis grow well in full sun with direct mid-day sun in hot summer climates, but will also grows equally well in half sun where it will get morning sun. Full sun produces the best leaf colour and form, even with the green types. In tropical conditions some burning may occur in the middle of summer, but in temperate climates burning is rare, unless the plants have not been acclimatised before planting out. Too much shade will cause leaves to look thin and leggy.
Watering: It enjoys constant moisture from rain or sprinkler and with high local humidity. In summer the plants grow best with high humidity. In summer if the temperatures are over the 18°C, some distilled water can be left in the central cavity formed by the rosette of leaves, renewing it frequently to avoid the formation of a mosquito larvae nest, whilst with lower temperatures and in winter it is better to leave it dry, thus avoiding possible rottenness. In presence of dry air and high temperatures, humidity can be incremented with nebulisations, whilst in winter with low temperatures it is better to leave it quite dry for avoiding possible rottenness.
Feeding: Apply a very weak liquid feed every month or so over the growing season and a mild solutions (one-quartet strength) of foliar fertilizer at 3-month intervals to both garden and container plants. Apply fertilizer to leaves, roots, and reservoir.
Salt aerosol hardiness: They are completely resistant to salt spray and wind, coping with near cyclone conditions even when planted in an exposed position.
Hardiness: It must be grown in a frost-free situation in open air in in the tropical and humid subtropical climates, with temperatures which it is good to keep over the 10° C, best 20-24°C. However its cultivation can be tried also in the warm temperate climates, in sheltered position, as it is surprisingly cold hardy, coping with up to frosts of several degrees. However young plants may be frost burnt. Winter hardy to USDA Zones (9b-)10-11. North of Zone 10 this bromeliad is usually grown in containers that must be overwintered indoors.
Pest & diseases: No serious insect or disease problems. Watch for aphids, thrips and scale. It is susceptible to mosquitos that will sometimes breed in the pools of water that are trapped between the leaves. Mealybugs infestations are also a frequent problem. Rot may develop if soil is kept too moist.
Tip: Remove old leaves from plant base and dead flower spikes only. Remove older plant crown when it begins to fade.
Use: The plant can be cultivated When planted against plants with darker foliage, it really stands out. The common cultivar 'Rubra' has burgundy leaf undersides and occasionally flushes of red on upper leaf surfaces, depending on the individual plant.
Propagation: From seed, pups and tissue culture. When the flower fades, pups appear from axillary gemmae between the leaves near the base of the plants. The offsets can be detached and repotted. Be sure to provide high humidity for a month after propagating the offsets.
The seeds can be removed from the inflorescence and placed uncovered on a bed of crushed tree fern fibres; keep constantly but moderately moist. Starting from the seed, 9 -15 years are needed for the blossoming, whilst at least 7 years are needed by division. The wide scale reproduction for commercial purposes is done by micro-propagation. Of course tissue culture and pup production, being vegetative, ensures that the plants will be the same colour as their mother. Tissue culture can produce unlimited numbers of plants, but even pup production is prolific.