Donate now to support the LLIFLE projects.
Your support is critical to our success.
Mammillaria rekoi subs. leptacantha Photo by: Alexander Arzberger
This is a nice species with long yellow or brown twisted spines, hooked at the tips.
Origin and Habitat: Oaxaca: Mitla, Mexico.
Synonyms:
See all synonyms of Mammillaria rekoi
Description: Slowly clustering , at about 3 or 5 years old from seed.
Stems: Globose to short, cylindrical, green, 12-13 cm tall, 5-6 cm thick. Sometimes with latex.
Tubercle: Conical to cylindrical. The axil has short white wool and white bristles. Tubercle arrangement: 8-13.
Areoles: Woolly, white. ( )
Radial spines: About 27-30, radiating, finely bristly, needle-like, white to golden yellow, 4 - 6 mm long.
Central spines: 4-6, much stouter than the radials, yellow, amber or brown, hooked, sometimes twisted, 15-20(-25) mm long, the lower one sometimes strongly hooked.
Flowers: Diurnal, purple, generally with darker midribs, up to 15 mm long. The petals flare back at the ends, rather than opening widely.
Blooming season: Spring.
Fruits: Red.
Seeds: Brown.
Subspecies, varieties, forms and cultivars of plants belonging to the Mammillaria rekoi group
Bibliography: Major references and further lectures
1) John Pilbeam (1999) "Mammillaria The Cactus File Handbook" Nuffield Press.
2) Edward F. Anderson "The Cactus Family" Timber Press, 2001
Mammillaria rekoi subs. leptacantha
Photo by: Valentino Vallicelli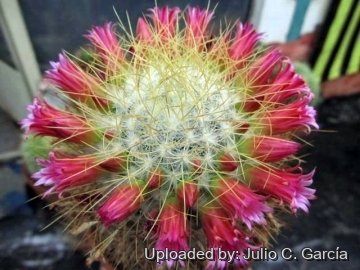 Mammillaria rekoi subs. leptacantha
Photo by: Julio C. García
Mammillaria rekoi subs. leptacantha
Photo by: Alexander Arzberger
Send a photo of this plant.
The gallery now contains thousands of pictures, however it is possible to do even more. We are, of course, seeking photos of species not yet shown in the gallery but not only that, we are also looking for better pictures than those already present.
Read More...
Cultivation and Propagation: Mammillaria rekoi subs. leptacantha requires excellent drainage provided by porous cactus soil. Easily clustering, it's an easy bloomer.
Growth rate: Most plants will offset readily, and clumps can be produced in a few years.
Repotting: We suggest repotting every 2-3 years.
Fertilization: During the beautiful season enrich the soil using a fertilizer rich in potassium and phosphorous, but poor in nitrogen, because this chemical element doesn't help the development of succulent plants, making them too soft and full of water.
Exposure: It prefers bright light and ample airflow. Outside full sun or afternoon shade, inside it needs bright light, and some direct sun.
Moisture: Water the soil abundantly when it is dry to the touch. Allow soil to drain thoroughly before watering again. Do not water much in the winter (rot prone). Overwintering: Protect from frost. But it's hardy to -5°C if kept dry.
Propagation: Division, direct sow after last frost.