Donate now to support the LLIFLE projects.
Your support is critical to our success.
Accepted Scientific Name: Copiapoa haseltoniana Backeb.
Descr. Cact. Nov. 33 (1957). Backeb.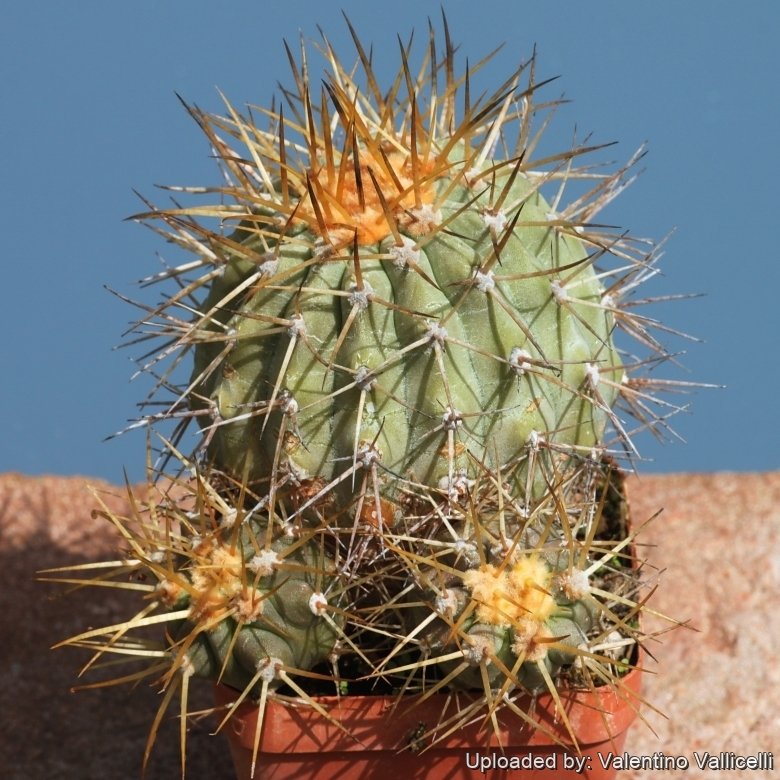 Copiapoa gigantea Photo by: Valentino Vallicelli
Origin and Habitat: Endemic to the Atacama desert (Chile, Antofagasta) Tipically found 2 km from Paposo, Pampa, Antofagasta ( but some authors indicate a wider area ranging from north of Taltal up to 25-30 km north of Paposo)
Habitat: It grows among rocks and gravel in a scattered population at low altitude (between 100 and 1300 m over sea level) in areas where very little else grows. As it is common in this coastal desert climate the rain-falls are extremely scarce, often it doesn't rain at all for many years. It's a very drought tolerant species. But the extreme aridity is attenuated by the frequent, often dense, early morning costal fog (the humidity of the ocean furnish part of the water needed by this plants). By the middle of the morning however, the fog cover dissipate and sun breaking through the gaps warming the ground. The nocturnal condensation is also an important and conspicuous source of humidity, that (especially in winter) may wet the ground down to 2 cm in depth. The root system of the copiapoas is sallow and allows them to uptake the maximum of this humidity.
Synonyms:
See all synonyms of Copiapoa haseltoniana
Description: It is a large sized often elongated and columnar plant slowly branching from the base, forming large, open clumps with (usually) few individual stems. Copiapoa giganteaSN|1380]]SN|1344]] has the largest and stouter individual stems among the member of the Copiapoa cinereaSN|1344]]SN|1380]] complex.
Stem: Globose to cylindrical, up to 1 m (or more) high, 20-30 cm across, pale olive-green, grey-green or ash-grey, the apex is very spiny, covered with reddish, orangish or yellowish-brown wool. The whitish-grey coloration is a waxy coating presumably to prevent desiccation in it's extremely dry environment. In cultivation the white waxy bloom is often not produced, revealing a brownish epidermis.
Ribs: 14-22(-37), rounded, broad, obtuse, wavy, almost straight, thickened at areoles (tuberculate), becoming flattened. The ribs in the younger specimen have very geometric and conspicuous tubercles, typically with a hexagonal base.
Areoles: Up to 18 mm in diameter, orangish, fading in grey as they become older.
Radial spines: Up to 7, about 1-2 (or more) cm long horny-yellow to orange coloured, terete, tipped darker, spreading, straight or slightly curved.
Central spine: 0-1(-2)
Flowers: Yellow funnelform, 1,5 to 2,5 cm in diameter. The Ovary is naked; it needs a lot of sunlight to bloom, so it's pretty rare to have blossoms when in cultivation in greenhouses.
Fruit: 1,5 to 2 cm long.
Seeds: Black and shining.
Subspecies, varieties, forms and cultivars of plants belonging to the Copiapoa haseltoniana group
Notes: Copiapoa gigantea is a controversial taxon related to Copiapoa cinereaSN|1339]]SN|1380]], but with thicker stem diameter and with thinner, needle-like spines and often indicated as a synonym of Copiapoa cinerea var. haseltonianaSN|1340]]SN|1340]]. Nevertheless C. gigantea may be distinguished from Copiapoa haseltonianaSN|1380]]SN|1339]] by the shorter more numerous 'orange' coloured spines and less wool (But the habitat areas of these two species overlap and some authors believe that they are the same, hence synonyms). This plant is indeed quite variable even in the same population, as is demonstrated by the number of synonyms. The several classifications and reclassifications provide evidence of the confusion that rules regarding the names used in this variable species. It seems that many of botanists and hobbyists who have studied Copiapoa in habitat have formed their own concepts of what names should be applied to which plants. It is relatively easy to attribute some key features that dominate in certain populations, but it is equally possible to look more closely at plants in these populations, to find individuals that 'break the rules' and would easily fit another population's dominant characteristics.
Bibliography: Major references and further lectures
1) Edward Anderson "The Cactus family" Timber Press, Incorporated, 2001
2) James Cullen, Sabina G. Knees, H. Suzanne Cubey "The European Garden Flora Flowering Plants: A Manual for the Identification of Plants Cultivated in Europe, Both Out-of-Doors and Under Glass" Cambridge University Press, 11/Aug/2011
3) David R Hunt; Nigel P Taylor; Graham Charles; International Cactaceae Systematics Group. "The New Cactus Lexicon" dh books, 2006
4) Nathaniel Lord Britton, Joseph Nelson Rose "Cactaceae: Descriptions and Illustrations of Plants of the Cactus Family" Courier Dover Publications, 1923.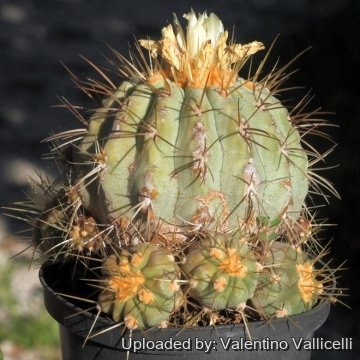 Copiapoa gigantea
Photo by: Valentino Vallicelli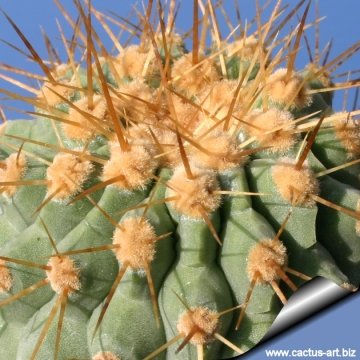 LH1314 Cobota, Chile.
Photo by: Cactus Art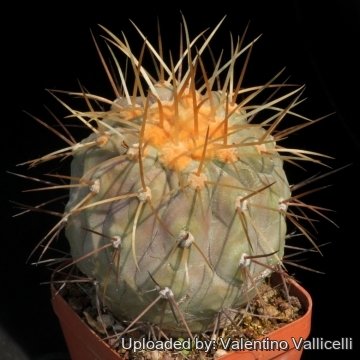 Copiapoa gigantea
Photo by: Valentino Vallicelli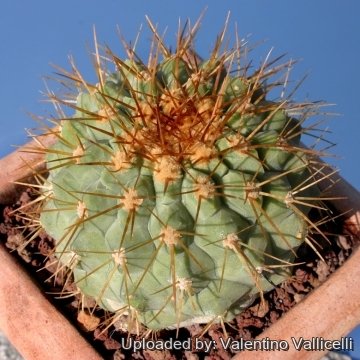 - LH1314 Cobota, Chile. This is one of the most attractive of the Copiapoas it may be distinguished from the very similar C. haseltoniana by the shorter more numerous 'orange' coloured spines and less wool.
Photo by: Valentino Vallicelli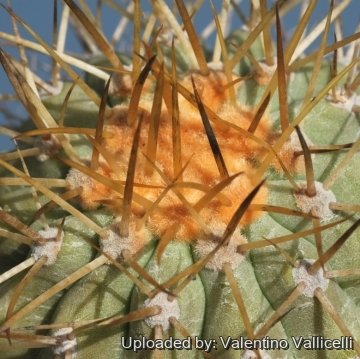 Copiapoa gigantea
Photo by: Valentino Vallicelli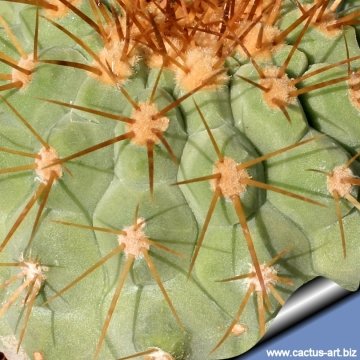 LH1314 Cobota, Chile.
Photo by: Cactus Art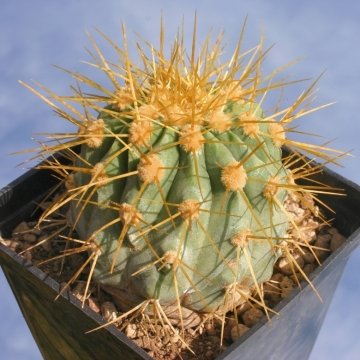 KK614 Paposo, Chile
Photo by: Cactus Art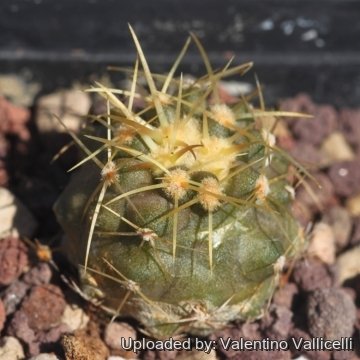 Copiapoa gigantea n. Paposo, Antofagasta, Chile. Juvenile specimen.
Photo by: Valentino Vallicelli
Cultivation and Propagation: This extremely slow growing cactus is kept for the beauty of its form. It must be protected from excessive heat and sun in summer, and seems to do best in cultivation with a bit of shade. It requires light but regular waterings in summer, but let the soil mix dry between waterings, Prone to rot if over-watered. Needs good drainage. Keep warm and dry in winter (10°C) to avoid rot. Not highly tolerant of a great deal of frost. (Frost tolerance 0°C)
Propagation: Seeds (or offsets if available), Grafting is often used to speed growth rate and to create a back-up to plants in collection.