Donate now to support the LLIFLE projects.
Your support is critical to our success.
Since 4 Aug 2013
sponsored link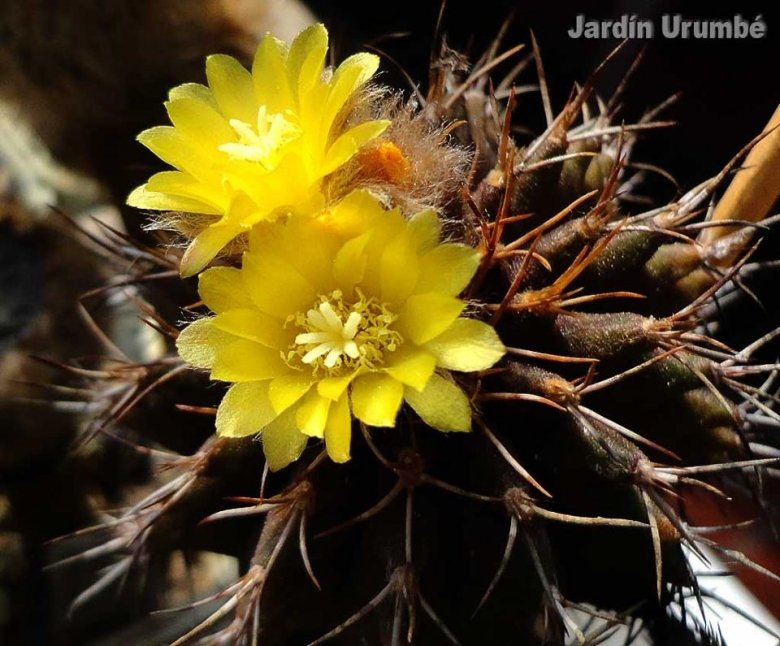 Uebelmannia buiningii Photo by: Alexander Arzberger
Origin and Habitat: It occurs in a single location in the Serra Negra in Minas Gerais, Brazil. The overall range of the species is very limited (extent of occurrence is 40 km²).
Altitude: Around 1000-1200 metres above sea level.
Habitat and Ecology: Uebelmannia buiningii grows in south-eastern campo rupestre (Serra Negra) on slabs of quartzitic rock amongst quartz gravel. Uebelmannia buiningii is on the verge of extinction and some of the subpopulations of this species, including at the type locality, have disappeared. The remaining subpopulations consist of only a few individuals. The major threat for this species is illegal collection of plants and seeds, fire, and cattle trampling. It is scarcely if at all in cultivation, where it has proved very difficult.
Synonyms:
Description: Uebelmannia buiningii is the most diminutive and also the most floriferous of the genus. It is a very pretty plant but tricky to cultivate and almost always grown grafted onto columnar cacti. It is very rare.
Stem: Globular to short cylindrical, greenish to deep-chocolate brown with a rough, velvety surface covered with minute waxy scales, golfball sized occasionally up to 8 cm in diameter.
Ribs: About 18, straight, 15 mm apart, divided into downward pointing tubercles about 5 mm apart.
Areoles: With sparse wool.
Spines: Yellow-brown to reddish-brown, often black tipped, becoming white with age, some incurved.
Central spines: 4, forming a cross.
Radial spines: 2-4, shorter than the centrals, straight, to 5 mm long.
Flowers: Funnel-shaped , bright yellow, to 2.7 cm long and 2 cm in diameter.
Blooming season: Early Summer to Late Summer.
Fruits: Ovoid, yellow, to 4 mm in diameter.
Bibliography: Major references and further lectures
1) Machado, M., Braun, P. & Taylor, N.P. 2013. Uebelmannia buiningii. In: IUCN 2013. "IUCN Red List of Threatened Species". Version 2013.2. <www.iucnredlist.org>. Downloaded on 16 February 2014.
2) Edward Anderson "The Cactus family" Timber Press, Incorporated, 2001
3) James Cullen, Sabina G. Knees, H. Suzanne Cubey "The European Garden Flora Flowering Plants: A Manual for the Identification of Plants Cultivated in Europe, Both Out-of-Doors and Under Glass" Cambridge University Press, 11/Aug/2011
4) David R Hunt; Nigel P Taylor; Graham Charles; International Cactaceae Systematics Group. "The New Cactus Lexicon" dh books, 2006
5) Hiroshi Hirao "Colour encyclopaedia of cacti" Japan 1979 (Japanese language and script)
6) E Haustein "Der Kosmos Kakteenfuehrer (the Kosmos Cactus Guide)" Balogh Scientific Books 01 December 1998
7) Willy Cullmann, Erich Götz (Dozent Dr.), Gerhard Gröner "The encyclopedia of cacti" Portland, OR: Timber Press, 1986
8) Clive Innes, Charles Glass "Cacti" Portland House, 1991
9) National Cactus and Succulent Journal. 24:3 1968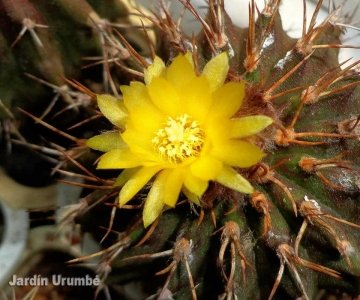 Uebelmannia buiningii
Photo by: Alexander Arzberger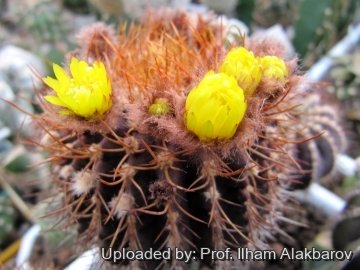 Uebelmannia buiningii
Photo by: Prof. Ilham Alakbarov
Uebelmannia buiningii
Photo by: Alexander Arzberger
Uebelmannia buiningii
Photo by: Alexander Arzberger
Uebelmannia buiningii
Photo by: Alexander Arzberger
Send a photo of this plant.
The gallery now contains thousands of pictures, however it is possible to do even more. We are, of course, seeking photos of species not yet shown in the gallery but not only that, we are also looking for better pictures than those already present.
Read More...
Cultivation and Propagation: It is rather difficult to grow and frost tender, should be kept at above 15° C if grown on its own roots (8°C if grafted) need full sun or afternoon shade. Young seedlings are generally grafted because they are slow growing and very rot prone when kept on their own roots and though they can't endure long stretches of total dryness, too much water will rot them, as their weak root systems tend to be inefficient at sucking up water from wet soil. They generally resent being repotted and can take a long time to establish.
Propagation: Seed or grafting.