Donate now to support the LLIFLE projects.
Your support is critical to our success.
Since 4 Aug 2013
sponsored link
Accepted Scientific Name: Eriosyce heinrichiana (Backeb.) Katt.
Eriosyce (Cactac.) gen. revis. & ampl. (Succ. Pl. Res., 1) 118 (1994)
Pyrrhocactus dimorphus Photo by: Valentino Vallicelli
Origin and Habitat: Chile (Coquimbo).
Synonyms:
See all synonyms of Eriosyce heinrichiana
Description: Pyrrhocactus dimorphus Ritter. is a local or morphological form of the widespread and variable Eriosyce heinrichiana. It is a tiny geophytic, cactus rising barely above ground level, usually solitary or sometime branching and slowly growing up to 6 cm in diameter. The specific name "Dimorphus" (= two bodies), refers to the two distinct stem forms, the juvenile form and the adult plant, the two so totally different that be difficult to realise they are one and same plant. However the distinguishing characteristics of Pyrrhocactus dimorphus, appear to fall within the natural variation of Eriosyce heinrichiana and it should be synonymized with the latter, but it still has a value for a collector because they identify plants with particular characters.
Root: It has a tuberous carrot-like root from which arises a contracted neck, ending in an enlarged top-shaped plant body.
Stem: Hemispherical to spherical, 2-6 cm diameter, almost black.
Ribs: Divided in tubercles , later flattish.
Areoles. White felty.
Spines: Dimorphous. This species is one of those Eriosyce which pass a short-spined youth stage in which they are already floriferous. Most of the plants after several years develop long spines, giving the plant a completely different fiercely spiny appearance.
Spines of juvenile specimens: 6-10, small, inconspicuous, 2-5 mm long, all radial, spreading sideways or flattened close to the plant, from black to nearly white.
Spines of mature specimens: Radials 8-12, up to 2 cm long, black to yellowish, the upper radials sometimes longer and bent. Central spines 1-3, black to brown, sometimes light brown to yellow and bent to the side.
Flower: Up to 3.5 cm. long, wide funnel-shaped, the underside with white wool and some fine yellow bristles. Petals pale to brownish-yellow, at the edge whiter.
Fruits: About 1.5 cm. long, red, hairy.
Seeds: Dark brown.
Subspecies, varieties, forms and cultivars of plants belonging to the Eriosyce heinrichiana group
Bibliography: Major references and further lectures
1) "The National Cactus and Succulent Journal: The Official Journal of the National Cactus & Succulent Society", Volumes 19-22 National Cactus and Succulent Society, 1964
Pyrrhocactus dimorphus
Photo by: Valentino Vallicelli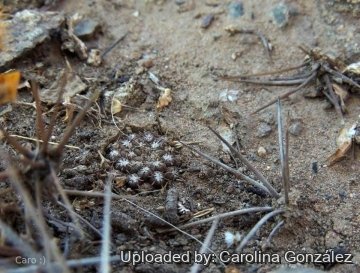 A typical juvenile specimen with very short, thin radial spines. In habitat at Coquimbo.
Photo by: Carolina González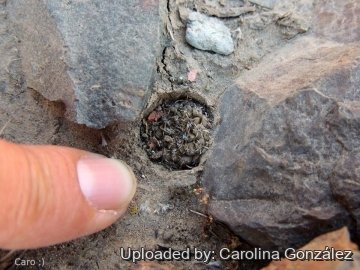 Juvenile specimen retracted in the ground in time of drought at Coquimbo.
Photo by: Carolina González
Send a photo of this plant.
The gallery now contains thousands of pictures, however it is possible to do even more. We are, of course, seeking photos of species not yet shown in the gallery but not only that, we are also looking for better pictures than those already present.
Read More...
Cultivation and Propagation: Pyrrhocactus dimorphus is a slow growing but relatively easy to grow species, providing they are kept dry during autumn and winter and rot prone if kept in a non ventilated place.
Soils: Require a very fast mineral draining drying soil (70-80% grit and 20-30% of land soil). To prevent rottenness it is also advisable to surround its root neck by very rough sand or grit, this help a fast water drainage and an appropriate air circulation.
Watering Needs: Root prone it needs good drainage, waterings should regular in summer (do not overwater), to keep the plant compact and not become excessively elongated and unnatural in appearance. During the winter quiescent period, or when night temperatures remain below 10° C, it must be strictly kept dry since it is very sensitive to any moisture excesses.
Fertilization: During the beautiful season it's good to enrich the soil using a fertilizer rich in potassium and phosphorous, but poor in nitrogen, because this chemical element doesn't help the development of succulent plants, making them too soft and full of water.
Exposure: Requires strong sun exposure to develop good spinal growth (maximum brightness, sunlight accepted), but tolerate light shade. Some light shadow my be useful in the hottest summer days.
Frost Tolerance: Hardy to at least -5°C for a short period but cannot tolerate long standing freezing temperature, and for an healthy cultivation ensure a minimum temperature of 5° C. Assure a good ventilation. USDA Hardiness Zone 9b and 11.
Heat tolerance: Good heat tolerance, but in warmer climates it should be protected from excessive heat and too much sun sun in summer.
Maintenance: Repot in the spring, when its roots become cramped. Generally, it should be repotted every other year in order to provide fresh soil. After repotting, do not water for a week or more.
Propagation: Usually propagated from Seeds. (seldom produces offsets). Sow the seeds in spring in a well-aerated compost at a temperatures of 22-24°C . Stand the pots in water, moisten thoroughly and drain. Scatter and press lightly the seed onto the top of the compost. But do not cover the small seeds with compost. Secure a polythene bag around the pot or cover the container with glass or and place in a warm shaded place. If possible, germinate in a propagator. Some seedlings may appear within a week or 10 days others will take longer. At lower temperatures, germination usually takes considerably longer. Once germination has taken place, remove gradually the glass or plastic and move into a good light but not in direct sun. If the young plants are exposed to too much sun, or the compost dries out, they may stop growing and often turn red; once they stop, it is often difficult to persuade them to start growing again. Never let the pots dry out-but don't saturate them either. A sodden compost is as harmful as a dry one. The seedling growth is rapid. But the seedling are often grafted because the plants on their own roots (especially the bigger ones) are extremely prone to root rot. In fact the best and older specimens are the grafted ones.