Donate now to support the LLIFLE projects.
Your support is critical to our success.
Since 4 Aug 2013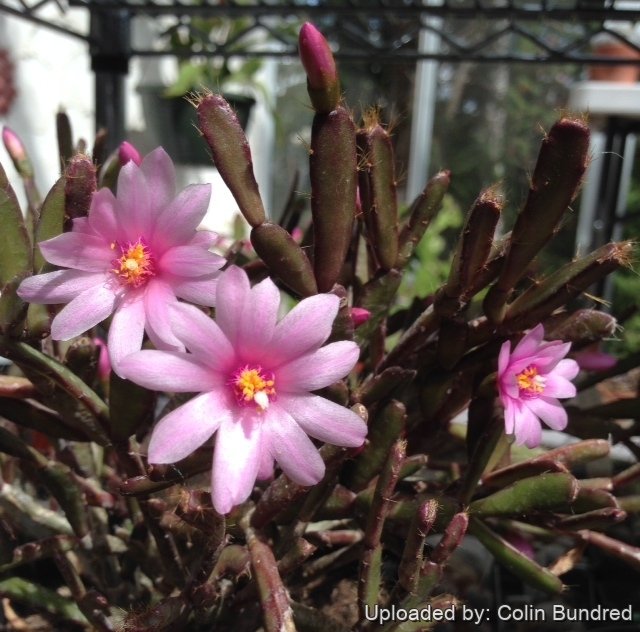 Hatiora rosea Photo by: Colin Bundred
It differs from the "Easter Cactus" Schumbergera gaertneri ( Hatiora gaertneri ) in its much smaller joints and flowers.
Origin and Habitat: Hatiora rosea is found in Brazil, occurring in Paraná, Rio Grande do Sul, and Santa Catarina. It is known from only ten locations (area of occupancy close to 2,000 km2).
Type locality: Near Caiguava, 1100-1300 m, Paraná (Brazil, Southern America)
Altitude range: 1,000 to 2,000 metres above sea level.
Habitat and Ecology: Species grows as an epiphyte, mainly on Araucaria in cloud forest. The species is under pressure of urban development, the construction of highways and deforestation for agricultural activities. The species is also collected by people. The Araucaria forests that were felled in the past are not being replanted. The species is therefore listed as Near Threatened. Hatiora rosea is a popular ornamental plant widely grown as a house plant.
Synonyms:
See all synonyms of Hatiora rosea
Accepted name in llifle Database:
Hatiora rosea
(Lagerh.) Barthlott
Bradleya 5: 100 1987
Synonymy: 7
Common Names include:
ENGLISH:
Easter Cactus, Whitsun Cactus, Rose Easter Cactus, Spring cactus, Pink star cactus
AFRIKAANS (Afrikaans):
Pase kaktus
FINNISH (Suomi):
Helluntaikaktuksen
FRENCH (Français):
Cactus de Pâques
GERMAN (Deutsch):
Rosenkaktus, Quellerkaktus, Osterkaktus
HUNGARIAN (Magyar):
Húsvéti kaktusz
ITALIAN (Italiano):
Cactus di Pasqua
PORTUGUESE (Português):
Flor-de-outubro
SPANISH (Español):
Cactus de Pascua
Description: Hatiora rosea is a mostly erect, or somewhat arching or pendent, bushy, cactus with unique jointed stems and many rose-coloured flowers. It an epiphytie, but is commonly grown as a foliage plant. This species is similar to the Easter Cactus (Hatiora gaertneri) but has much smaller joints and flowers. Basically a mini Easter Cactus.
Stem segments: Flat or three- to five-angled with concave sides, reddish, becoming dark green, 2-4 cm long, margins with two or three notches.
Areoles: Marginal and apical, with a few bristles.
Flowers: Borne terminally, broadly funnel form, fragrant, 3-4 cm long and in diameter. Perianth-segments, few, pink. Stamens about 11 mm long rose-coloured. Style 13 mm long, rose-coloured. Stigma lobes 3, white, 3 mm long.
Fruits: Buds red. Depressed globose, yellowish.
Chromosome number: Hatiora rosea is a diploid species with a chromosome number of 2n = 2x = 22.
Notes: Hatiora rosea is one of the hybrid parents of Hatiora × graeseri Barthlott ex D.R.Hunt Bradleya 10: 25 (1992). The other parent is Hatiora gaertneri. This hybrids are among the most popular of all cactus species in cultivation. They are found world-wide in grocery stores and garden centres. They are often sold under the common names "Spring Cactus", "Whitsun Cactus" or "Easter Cactus" because they often bloom in spring. Although, if grown properly, these plants will flower 2 or more times within a year.

Bibliography: Major references and further lectures
1) Taylor, N.P. & Zappi, D. 2013. Hatiora rosea. The IUCN Red List of Threatened Species. Version 2014.2. <www.iucnredlist.org>. Downloaded on 10 August 2014.
2) James Cullen, Sabina G. Knees, H. Suzanne Cubey "The European Garden Flora Flowering Plants: A Manual for the Identification of Plants Cultivated in Europe, Both Out-of-Doors and Under Glass" Cambridge University Press, 11/Aug./2011
3) David Hunt, Nigel Taylor "The New Cactus Lexicon" DH Books, 2006
4) Edward F. Anderson "The Cactus Family" Timber Press, 2001
5) Urs Eggli, Leonard E. Newton "Glossary of Botanical Terms with Special Reference to Succulent Plants." British Cactus and Succulent Society, Richmond 1993
6) Hans Hecht "Cacti & Succulents" Sterling Publishing Company Incorporated, 1994
7) Haustein, Erik "Der Kosmos-Kakteenführer" Franckh-Kosmos 1983
8) N. L. Britton, J. N. Rose "The Cactaceae. Descriptions and Illustrations of Plants of the Cactus Family." Volume 4, The Carnegie Institution of Washington, Washington 1923
9) Neil Owen Anderson "Flower Breeding and Genetics: Issues, Challenges and Opportunities for the 21st Century" Springer Science & Business Media, 01/Oct/2007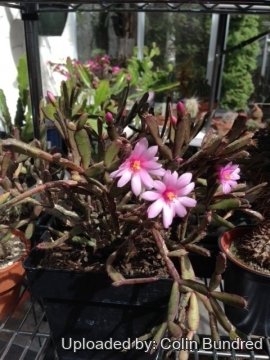 Hatiora rosea
Photo by: Colin Bundred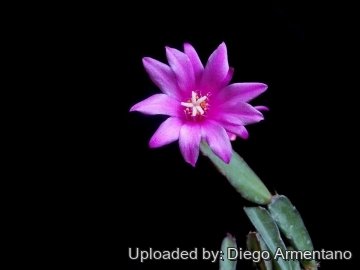 Hatiora rosea
Photo by: Diego Armentano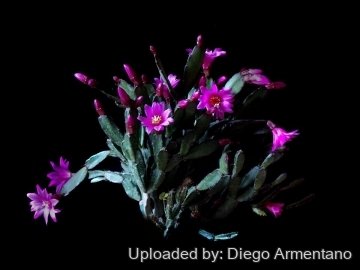 Hatiora rosea
Photo by: Diego Armentano
Send a photo of this plant.
The gallery now contains thousands of pictures, however it is possible to do even more. We are, of course, seeking photos of species not yet shown in the gallery but not only that, we are also looking for better pictures than those already present.
Read More...
Cultivation and Propagation: Hatiora rosea has the same requirements as a normal easter cctus, but is much more prone to shedding it's stems if something is wrong (under/over watering being the most common), but it can be propagated from any of the fallen stems, so just pot them up. Likes humidity, and bright, but indirect light, loose soil, regular watering (Careful!), and the occasional fertilizer. These forest cacti tend to be long lived.
Soil: It is an epiphyte cactus but is commonly grown as a foliage plant and appreciate more organic matter in potting mixes than most terrestrial cacti, and do best in soils containing sphagnum. This type of soil would normally be used for orchids, bromeliads or other epiphytic plants.
Waterings: They require ample summer water and partial shade, but allow soil to dry slightly between waterings. During the flowering cycle keep them moist (but not soggy). After the blossoms have fallen off you should back off on the water for a couple of months. If they need repotting, this is the time to do it.
Remarks:* They drop their buds easily if they are moved. Once flower buds have formed, DO NOT MOVE the plant, as slight changes in environment may cause the buds to drop.
Propagation: Stem cuttings, Grafting (For grafting this plant Acanthocereus pentagonus is a good stock)