Donate now to support the LLIFLE projects.
Your support is critical to our success.
Since 4 Aug 2013
sponsored link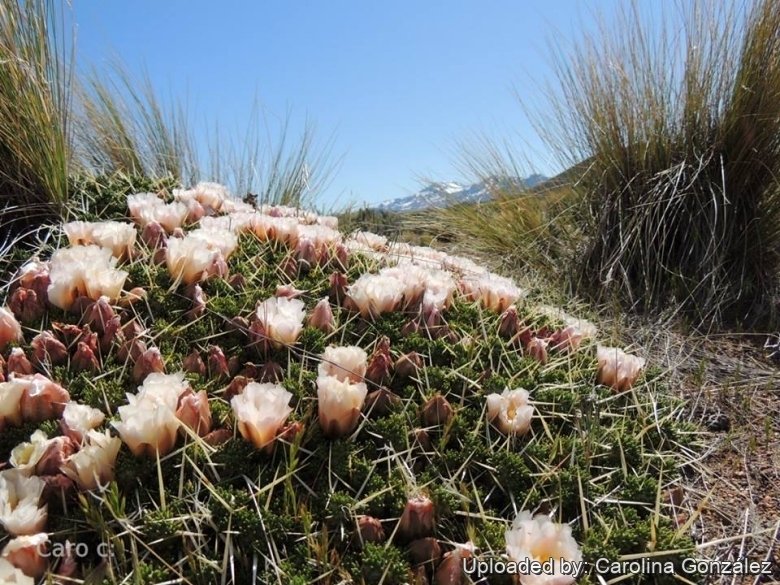 Maihuenia patagonica Photo by: Carolina González
Origin and Habitat: Maihuenia patagonica occurs in Argentina (Chubut, Mendoza, Neuquén, Río Negro, La Pampa, and Santa Cruz provinces) and Chile (Chile Chico, Aisén).
Altitude range: It grows below1, 500 metres above sea level, most often from 0 to 600 metres.
Habitat and Ecology: It grows in dry exposed places in semi-desert, rocky plains, grasslands, arid steppe and subalpine regions of Patagonia. Maihuenia patagonica grows in a variety of soil types, but always in the form of a coarse mixture, often of volcanic origin. Compared with Maihuenia poeppigii, Maihuenia patagonica grows in drier areas with 130 to 250 mm precipitation per annum concentrated in winter. The dry season in the summer lasts from 8 to 10 months. Seedlings and young plants capture the drought by forming rapidly relatively thick roots. Five days after germination the seedlings have a taproot 3-5 cm long. Observations indicate that the temperature on the day runs between 0 and 20 degrees Celsius. The surface temperature lies between 0 and 45 degrees Celsius, with peaks at 55 degrees Celsius, but some frost is possible during the night in the summer too. The area is very windy (wind speeds between 3 to 20 meters per second). Lower temperatures are not known, but in one of the growth sites it has been recorded -20 degrees Celsius in winter. No threats exist to this species because it has a wide range, is locally abundant, especially throughout the province of Neuquén, is present in several protected areas and there are no major threats affecting it. It is often associated with ants.
Synonyms:
See all synonyms of Maihuenia patagonica
Accepted name in llifle Database:
Maihuenia patagonica
(Phil.) Britton & Rose
Cactaceae (Britton & Rose) 1: 41 1919.
Synonymy: 11
Common Names include:
ENGLISH:
Spiny green blanket
SPANISH (Español):
Chupas sangre, Siempre verde, Yerba del guanaco, Siempreverde, Tuna
Description: Maihuenia patagonica is a low to strongly domed cushion-forming, densely spiny cactus, 20-40(-100) cm high and one to several metres across. The white or violet booms are produced at stems tips on short spur shoots.
Stems (joints): Lax, not segmented, elongated, to 40 cm long, 1-2 cm in diameter, much branched, with numerous knoblike to cylindrical spur shoots.
Rootstock: It has a 40 cm long, below-ground storage structure (taproot)
Areoles: Young areoles bears white hairs.
Leaves: Fleshy subulate, conical, ovoid to linear, round or elliptical in cross section, green, 2-6 mm long, 1.5-3 mm in diameter, with acute tips.
Spines: Weak, hardly pungent, mostly white but also greenish, yellowish, grey or reddish. Central spine one, more rigid, 3-7.5 cm long. Lateral spines 2, rarely one or absent, sometimes inconspicuous, 2-8 mm long, sometimes flattened against the surface.
Flowers: Bell-shaped, 28 to 55 mm in diameter, usually borne terminally on short spur shoots, usually white, pale pink or bluish-pink, also reported as red.
Blooming season: It flowers in late spring or early summer (January and February in habitat).
Fruits: Oblong, subglobose or club shaped, 20 to 40 mm long, semi-dry at maturity, yellowish green appearing in summer. Leaves on the ovary ovate to lanceolate, fleshy, naked in their axils, except some of the upper ones.
Seeds: Round, 3 to 4 mm in diameter.
Subspecies, varieties, forms and cultivars of plants belonging to the Maihuenia patagonica group
Maihuenia patagonica

(Phil.) Britton & Rose

: is a domed cushion-forming 20-40 cm high and 1 or more m across. The white or violet booms are produced at stems tips on short spur shoots. Distribution: Argentina and Chile.

Maihuenia patagonica f. cristata

hort.

: Crested form.
Bibliography: Major references and further lectures
1) Edward Anderson "The Cactus family" Timber Press, Incorporated, 2001
2) James Cullen, Sabina G. Knees, H. Suzanne Cubey "The European Garden Flora Flowering Plants: A Manual for the Identification of Plants Cultivated in Europe, Both Out-of-Doors and Under Glass" Cambridge University Press, 11/ August /2011
3) David R Hunt; Nigel P Taylor; Graham Charles; International Cactaceae Systematics Group. "The New Cactus Lexicon" dh books, 2006
4) Urs Eggli, Leonard E. Newton: "Etymological Dictionary of Succulent Plant Names" Springer, Berlin/Heidelberg 2010
5) Kiesling, R., Faundez, L., Saldivia, P. & Walter, H.E. 2013. Maihuenia patagonica. The IUCN Red List of Threatened Species. Version 2014.3. <www.iucnredlist.org>. Downloaded on 21 March 2015.
6) N. L. Britton, J. N. Rose: "The Cactaceae. Descriptions and Illustrations of Plants of the Cactus Family." volume 1, The Carnegie Institution of Washington, Washington 1919
7) The Alpine Garden Society "Maihuenia patagonica" <http://encyclopaedia.alpinegardensociety.net> Web. 21 Mar. 2015.
8) Winterharde soortlijst "Maihuenia patagonica" <http://www.cactusinfo.nl> Web. 21 Mar. 2015.
Maihuenia patagonica
Photo by: Carolina González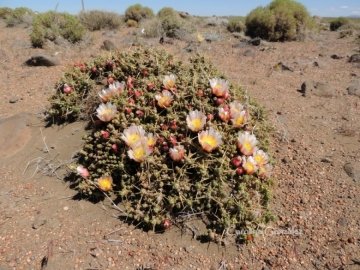 Maihuenia patagonica
Photo by: Carolina González
Maihuenia patagonica
Photo by: Carolina González
Covered by sand. (Neuquén province, Argentina)
Photo by: Carolina González
Flower buds.
Photo by: Carolina González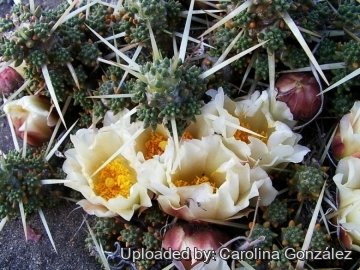 Maihuenia patagonica
Photo by: Carolina González
Fruits. (Neuquén province, Argentina)
Photo by: Carolina González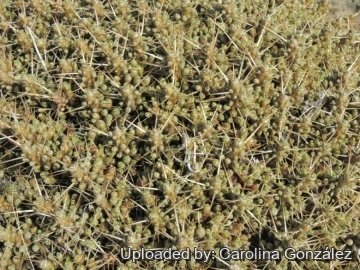 Habit with knoblike spur shoots in spring.
Photo by: Carolina González
Cultivation and Propagation: Maihuenia patagonica is an easy-to-grow plant supposed to be quite cold-hardy in the central european climate but the high-altitude Maihuenia poeppigii is probably more reliable. It can survive outside in the garden in the sunny rockery on a sheltered place, but only if it's protected with a sheet of glass during the wintertime. It is also very good for a large pot which can be stored inside an unheated greenhouse or on a balcony, somewhat protected from moisture during the winter, but is probably safest to grow it in the Alpine House or in a raised bed inside an unheated greenhouse all year around, with lots of ventilation. It doesn't fear cold weather and it bears very harsh frost, and temperatures of around -10° degrees Celsius did not harm these plants at all. They should not be kept hot in summer as they are from high elevations. During the beautiful season it's good to enrich the soil of our succulent plants; using a fertilizer rich in potassium and phosphorous, but poor in nitrogen, because this chemical element doesn't help the development of succulent plants, making them too soft and full of water. For a balanced development, it is best to position the the maihuenias in a place where it is exposed to at least a few hours of direct sunlight. Water these plants only from time to time if grown outdoors, but it should be watered abundantly if grown in a pot or in the greenhouse, during the summer. The spring weather, with a high temperature swing between the day and night hours, and pretty frequent rains, can favour the development of fungus diseases, which should be treated pre-emptively with a systemic fungicide. We suggest repotting every 2-3 years.
This species can also be grown anchored without soil on a roof (like for the sempervivums).
Your Photos
---

by Carolina González

by Carolina González

by Carolina González

by Carolina González

by Carolina González