Donate now to support the LLIFLE projects.
Your support is critical to our success.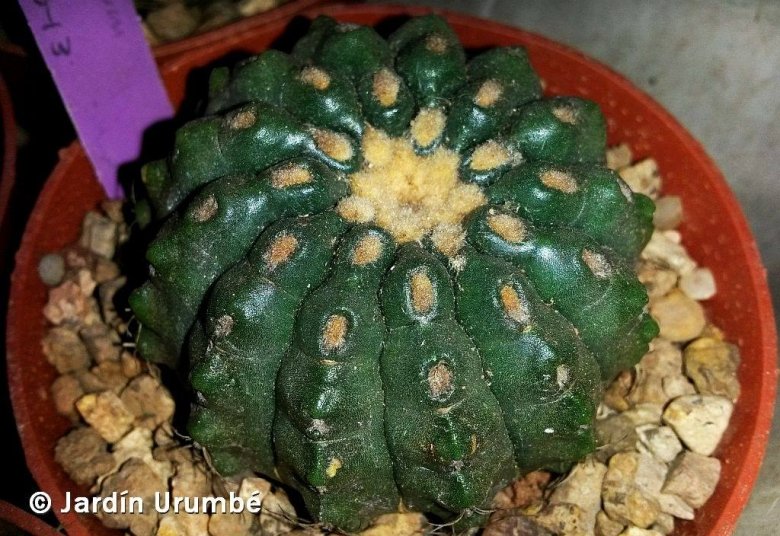 Parodia turbinata subs. calvescens Photo by: Alexander Arzberger
This is a very attractive plant. Especially old specimens without spines.
Origin and Habitat: Notocactus calvescens, endemic to a small area in the Espinilho Park region (Corrientes, western part of pampa, Argentina on the border with Brazil and southern coast of the Rio Uruguay, north of Barra do Quarai, Rio Grande do Sul). Piltz found it also in the province of Entre Rios.
Habitat and ecology: This species grows on a sandy steppe (Esplinal) among grass shaded by bushes, sometime together with Gymnocalycium uruguayense.
Synonyms:
See all synonyms of Parodia turbinata
Accepted name in llifle Database:
Parodia turbinata subs. calvescens
(N.Gerloff & A.D.Nilson) Hofacker
Kakteen Sukk. 63(2): 46. 2012 [Feb 2012 publ. Jan 2012]
Synonymy: 5
Accepted name in llifle Database:
Parodia turbinata
(Arechav.) Hofacker
Cactaceae Consensus Init. 6: 12. 1998
Synonymy: 12
Description: Parodia calvescens (Notocactus calvescens), now treated as a synonym of Parodia turbinata, is a greyish-green plant that has minute white spines in the juvenile phase, but gradually loses its spines and eventually is completely naked. At the diameter of 5 cm the plant reaches maturity and is able to flower. Old individuals are completely naked and reach 20 cm diameter. It is a shadow lover species and is prone to be scorched by the sun if not adequately protected. N. calvescens is a very attractive plant, Especially old specimens without spines.
Derivation of specific name: The epithet 'calvescens' stands for 'without spines'.
Stem: Solitary, flattened spherical, up to 14 (-20) cm wide, in habitat protruding only 1 cm from the ground (often hemispherical and slightly higher in cultivation), the lower part of the body extends into a long spherical root.
Ribs: 13-17, later to 21, initially well outlined and somewhat angled, later almost completely reshaped in round bumps
Spines: Supination develops only on young plants, radial spines 3 to 6, thin, white, 2-5 mm long, central spines are not present. At maturity the plant ceases to produce spines.
Flowers: 35 mm wide, 23 mm long, with a red throat, the tepals are yellowish-white with a characteristic silky shine (almost pure white in Brazilian forms), the style is yellowish-white, with brownish-red or dark purple stigma lobes. The filaments are purple, and the anthers are golden yellow. The Brazilan form of N. calvescens has nearly white flowers with red throat.
Fruits: Very small, initially whitish, 5-7 mm long, later red and extending to a length of 12 mm.
Seeds: There are few dark brown seeds (22-37) in each fruits.
Bibliography: Major references and further lectures
1) D. Hunt, "Cactaceae Systematics Initiatives: Bulletin of the International Cactaceae Systematics Group", 1996
2) "Diversidade biológica nos jardins botânicos brasileiros" Rede Brasileira de Jardins Botânicos, 2004
3) Stanislav Stuchlík, KAKTUSY, 2001/2, str. 59 – 60
4) Norbert Gerloff "Malakokarpusy brazylijskiej pampy - Malacocarpi of the Brazilian pampa" KAKTUSY I INNE Vol . 5 (2008) No. 1
5) Original description: N. Gerloff & A.D. Nilson in Internoto 15(3): 78 (1994).
6) W. Prauser in Internoto 14(2): 53 (1993), without latin descr. or type. Brazil South (Rio Grande do Sul).
Parodia turbinata subs. calvescens
Photo by: Alexander Arzberger
Send a photo of this plant.
The gallery now contains thousands of pictures, however it is possible to do even more. We are, of course, seeking photos of species not yet shown in the gallery but not only that, we are also looking for better pictures than those already present.
Read More...
Cultivation and Propagation: Parodia calvescens is an easy to grow tropical cactus that like a warm bright location, but more cold tolerant than most and less fussy regarding soil conditions.
Growth rate: It is a relatively rapidly growing and easily flowering species.
Soils: Although the pH at the station is slightly alkaline, cultivation in the ordinary very porous neutral to slightly acidic compost with plenty of extra grit is successful. Plants grow well on their own roots and at the age of 5-6 years they start to bloom.
Repotting: Use pot with good drainage.
Watering: Water regularly in summer, but do not overwater, keep dry in winter. It rot easily if the substrate is wet and cold, tends to lose its roots in winter. Best if watered with rain water.
Fertilization: Feed it once during the growing season with a fertilizer specifically formulated for cactus and succulents (poor in nitrogen), including all micro nutrients and trace elements diluted to ½ the strength recommended on the label. It thrives in poor soils and need a limited supplies of fertilizer to avoid the plants developing excess vegetation, which is easily attacked by fungal diseases.
Hardiness: Reputedly sensitive to frost , but less so if kept on the dry side prior to, and during, cold weather (hardy to -5° C for short periods). However warmth throughout the year will increase the grower's success (8-12°C during rest season).
Exposition: Outside bright filtered sunlight or afternoon shade, avoid full sun. Inside it needs bright light, and some direct sun. Subject to sunburn if exposed to direct sun for too long. Tends to bronze in strong light, which encourages flowering and heavy wool and spine production.
Propagation: Direct sow after last frost. Seeds germinate in 7-14 days at 21-27° C in spring, remove the glass cover gradually as the plants develops and keep ventilated, no full sun for young plants!