Donate now to support the LLIFLE projects.
Your support is critical to our success.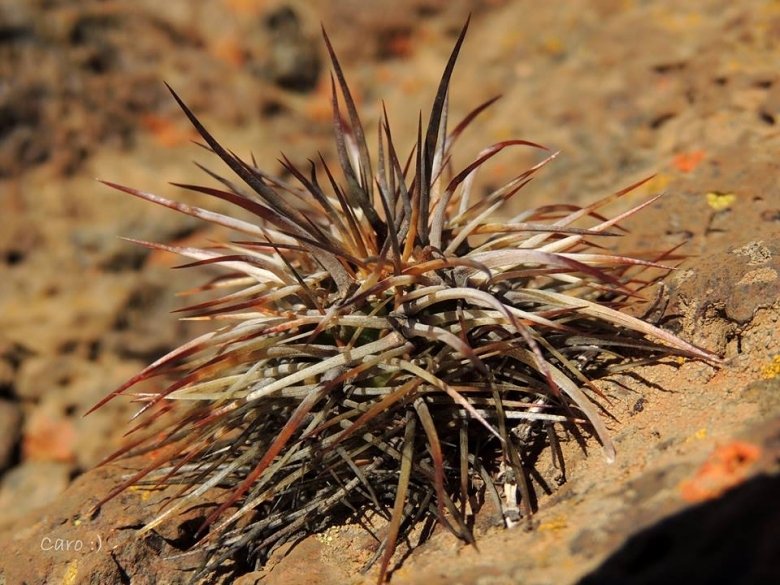 Austrocactus longicarpus Photo by: Carolina González
In habitat Neuquén province. Argentina.
Origin and Habitat: Austrocactus longicarpus is endemic to a small area north and south of Zapala and westward to Primeros Pinos in the the province of Neuquén, Argentina.
Altitude range: It grows at elevations of between 1000 and 1400 metres above sea level.
Synonyms:
Description: Austrocactus longicarpus is a peculiar species distinguished by very long, narrow fruits that don't open at maturity from a basal pore, but split open by a lateral crack. The flowers are borne near the tips of the stem and show peculiar traits. They are narrowly funnel-shaped with pink tepals, while the style and pistil are white or very pale pink, conversely all the other Austrocactus with pink flowers always have a purple style and pistil (occasionally flowers takes a honey yellow colouration). The spines are also very impressive, dense, stout, sword-shaped, curved or straight, amber to brown, sometimes reddish. The plants found in the upper part of the range (1400 m a.s.l.) often shows darker epidermis and spines, but all other features are the same.
Bibliography: Major references and further lectures
1) Elisabeth Sarnes, Norbert Sarnes "Anmerkungen zu Austrocactus coxii und Neubeschreibung des Austrocactus longicarpus." In: Kakteen und andere Sukkulenten. Volume 65, Number 10, 2014, pages 253–261.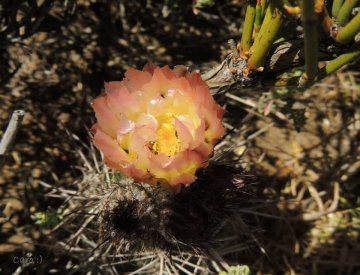 Austrocactus longicarpus
Photo by: Carolina González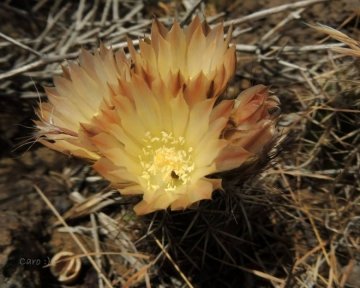 Austrocactus longicarpus
Photo by: Carolina González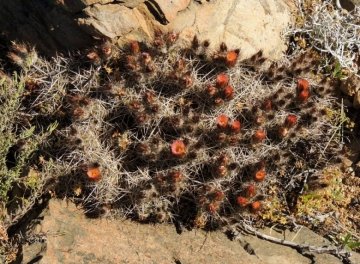 Austrocactus longicarpus
Photo by: Carolina González
The typical elongated fruit that give the name to this species. West of Zapala.
Photo by: Carolina González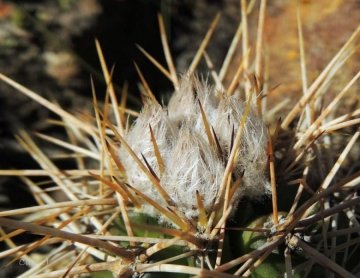 Austrocactus longicarpus
Photo by: Carolina González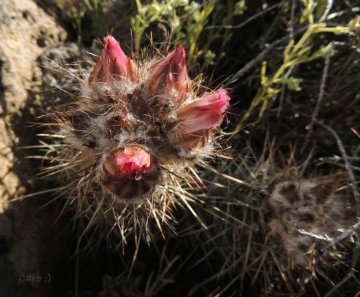 Austrocactus longicarpus
Photo by: Carolina González
Austrocactus longicarpus
Photo by: Carolina González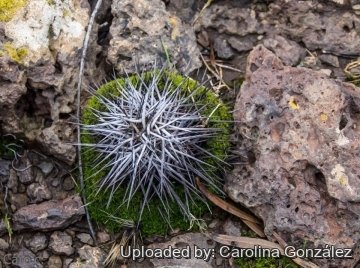 Austrocactus longicarpus
Photo by: Carolina González
Cultivation and Propagation: Austrocacti are relatively easy to grow, providing they are kept cold, but dry during autumn and winter. However difficult to find high quality plants of this species in cultivation. They are very cold hardy cacti theoretically hardy to -18°C (or more) particularly when dry. These cacti are often grown grafted. Plants cultivated outdoors are drought tolerant and take full sun. They are wonderful companion plant for Echinocereus and Escobaria cacti species.
Soil: It need a very well-drained, coarse mineral soil. To prevent rottenness it is also advisable to surround its root neck by very rough sand or grit, this help a fast water drainage and an appropriate air circulation.
Repotting: Repot in the spring, when its roots become cramped. Generally, it should be repotted every other year in order to provide fresh soil. After repotting, do not water for a week or more.
Watering: It grows fairly fast in summer if provided with copious water but allows to dry thoroughly before watering again. During the winter quiescent period it must be strictly kept dry since it is very sensitive to any moisture excesses.
Fertilization: During the beautiful season it's good to enrich the soil using a fertilizer rich in potassium and phosphorous, but poor in nitrogen, because this chemical element doesn't help the development of succulent plants, making them too soft and full of water.
Exposition: It is essential to give full sun otherwise they will become atypical. If grown in full sun, the new growth will flower in spring and summer.
Frost Tolerance: Very frost hardy can withstand temperatures down to minus 18° C (or less). In cultivation overwinter in a cool place (at -5/-10°C) this is important for the flowers as well as for plants health. Without this cool winter period they normally wont get any buds.
Heat tolerance: In warmer climates it should be protected from excessive heat and too much sun sun in summer because it is not very heat tolerant.
Sun Exposure: Needs a full sun exposure (light shadow my be useful in the hottest summer days)
Reproduction: Suckers or seed. Remove the basal suckers (if available) in spring or summer and let the cuttings dry for a few days before inserting in compost. Sow the seeds in spring in a well-aerated compost at a temperatures of 22-24°C . Stand the pots in water, moisten thoroughly and drain. Scatter and press lightly the seed onto the top of the compost. But do not cover the small seeds with compost. Secure a polythene bag around the pot or cover the container with glass or and place in a warm shaded place. If possible, germinate in a propagator. Some seedlings may appear within a week or 10 days others will take longer. At lower temperatures, germination usually takes considerably longer. Once germination has taken place, remove gradually the glass or plastic and move into a good light but not in direct sun. If the young plants are exposed to too much sun, or the compost dries out, they may stop growing and often turn red; once they stop, it is often difficult to persuade them to start growing again. Never let the pots dry out-but don't saturate them either. A sodden compost is as harmful as a dry one. For its sensitive roots this species is frequently grafted to avoid root problems.