Donate now to support the LLIFLE projects.
Your support is critical to our success.
Since 4 Aug 2013
sponsored link
Accepted Scientific Name: Echinocereus reichenbachii (Terscheck ex Walp.) Haage jr. ex Britton & Rose
Cactaceae (Britton & Rose) 3: 25. 1922 [12 Oct 1922] ; vide Gray Herb. Card Cat Britton & Rose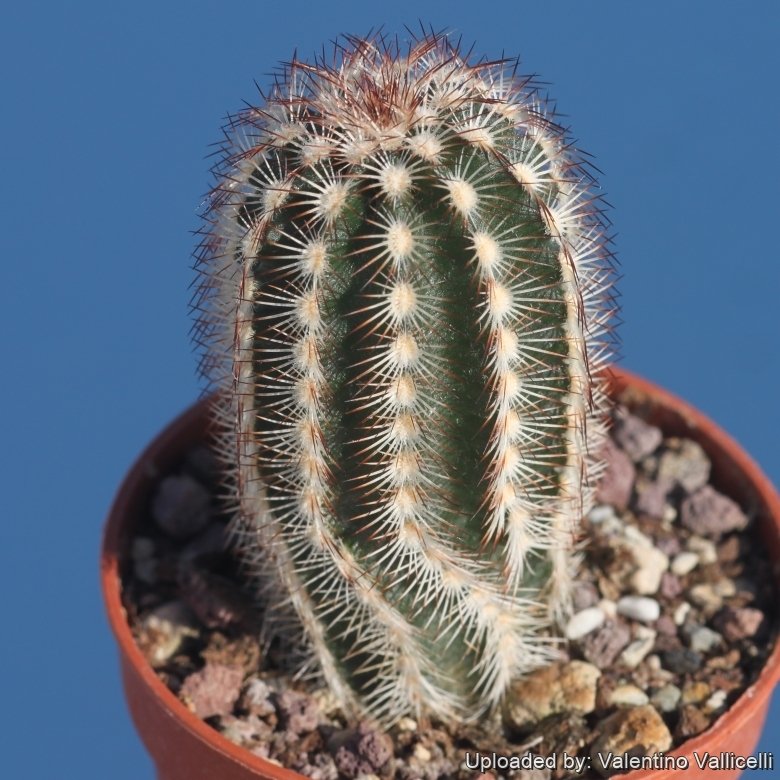 Echinocereus reichenbachii var. purpureus Photo by: Valentino Vallicelli
Origin and Habitat: Oklhoma
Synonyms:
See all synonyms of Echinocereus reichenbachii
Common Names include:
ENGLISH:
Purple Candle Cactus, Merry Widow Cactus, Lace Cactus, Hedghog Cactus, Black lace cactus
Description: The "Echinocereus purpureusSN|7575]]SN|7611]]" from Oklahoma is merely one of the several forms of the very variable Echinocereus reichenbachii and is intermediate between Echinocereus reichenbachiiSN|7575]]SN|7575]] subsp. baileyi and Echinocereus reichenbachiiSN|7575]]SN|7575]] subsp. caespitosus. It has reddish neat comb-like short spination. It is one of the smaller Echinocereus species. However Echinocereus reichenbachiiSN|7611]]SN|7575]] occurs over quite a wide area and the "purpureus" form is often regarded as a mere ecotype. However red spined form with bright purple flowers occurs at random elsewhere.
Stem: Erect, cylindrical or short cylindrical, as the the species, but smaller in maximum size and in diameter.
Ribs: 10-19 straight or slightly undulate.
Areoles:1-6 mm apart.
Radial spines: 14 to 22, straight to slightly curved, held closely against the the ribs of the stems, organized in 2 series, pectinately arranged or nearly so, 5 to 8 mm long. Multi-coloured, dullcreamy-white, glistering purplish to almost black at their tips, at first, whitish on older areoles.
Central spines: 0 to3 ( but usually absent) small, terete.
Flowers: Beautiful, abundant, scented, always purple in colour, 5 to 7 cm long. Flower tube 22-40 long, 10-30 mm in diameter, clothed with dense greyish wool, flower tube hairs 5-15 mm long; anthers yellow; nectar chamber 2-5 mm. Stigma lobes 12.
Blooming season: Early May to Late June.
Fruits: Ovoid green, olive green, or dark green, fruit up to 28 mm long; fruiting 1,5-2,5 months after flowering.
Seeds: Black.
Subspecies, varieties, forms and cultivars of plants belonging to the Echinocereus reichenbachii group
Bibliography: Major references and further lectures
1) Edward F. Anderson (2001) " The Cactus Family".
2) Curt Backeberg "Cactus Lexicon" Sterling Publishing Company, Incorporated, 1978
3) David Hunt, Nigel Taylor "The New Cactus Lexicon" DH Books, 2006 ISBN 0953813444, 9780953813445
4) Del Weniger "Cacti of the Southwest: Texas, New Mexico, Oklahoma, Arkansas, and Louisiana" University of Texas Press, 1969
5) James Cullen, Sabina G. Knees, H. Suzanne Cubey "The European Garden Flora Flowering Plants: A Manual for the Identification of Plants Cultivated in Europe, Both Out-of-Doors and Under GlassCambridge University Press, 11/ago/2011
6) Lyman David Benson "The Cacti of the United States and Canada" Stanford University Press, 1982
Echinocereus reichenbachii var. purpureus
Photo by: Valentino Vallicelli
Send a photo of this plant.
The gallery now contains thousands of pictures, however it is possible to do even more. We are, of course, seeking photos of species not yet shown in the gallery but not only that, we are also looking for better pictures than those already present.
Read More...
Cultivation and Propagation: It is sensitive to overwatering (rot prone) needs a very good drainage to avoid rotting, but requires more moisture than true desert cacti to grow and produce flowers, Keep drier and cool in winter. Need full sun. It is very cold resistant from -10° to -25° C (depending on clones) or less for short periods of time. It is a fine plant for a rock garden or container, contrasts well with agaves, yuccas, and low-growing flowering plants.
Propagation: Seeds, also can be grown from cutting as it slowly branches from the base.